The Alaska Association of Secondary School Principals (AASSP) sponsors regional and statewide Principal of The Year recognition awards to honor the educational leaders who play such a pivotal role in student success. They may be nominated by anyone – students, staff, parents, district office staff or principal peers – with awards finalized by AASSP members in their region.
Below are stories that illustrate how deserving the 2020 regional principal award recipients are:
Region 1 POY – Scott Lefebvre
Ambler School Principal Scott Lefebvre has been named Alaska Association of Secondary School Principals Region 1 Principal of The Year for 2020. Ambler School is a Pre-K through grade 12 school in the Northwest Arctic Borough School District. He shares this award with fellow principal John "Rob" O'Neal of Kobuk School.
Seth Kantner, a friend who was born and raised down river from the village, says Scott Lefebvre's generosity to his Ambler School community and the surrounding village is irreplaceable. "Scott simply gives whatever he has– his time, food, snowmobile, clothing, energy and enthusiasm–to whomever of his students or community members are in need. He truly is a gift to this village and our region," says Kantner.
Those who speak of Lefebvre all share the sense of generosity and family that the principal exudes including traveling health care provider Julie Johnson.
"Scott is a huge kid! He creates a school environment that is not only effective, but more importantly, meaningful to the students that attend," says Johnson. "School is fun, functional, and fruitful and every person matters whether students, staff, community members, or visitors. Scott possesses the character of a leader, a teacher, a mentor, and friend and is as fascinated about teaching as he is learning," she says.
A dedicated leader, educator and lifelong learner, Lefebvre is known to give above and beyond, devoting personal time outside of school hours to organize and manage multiple community events through weekends and holidays.
Kathaleen O'Dell has been teaching at Ambler School as a Preschool and Kindergarten teacher while her family lives in Soldotna. "I am far from my family but there is such a family here thanks to Principal Lefebvre," she says.
Region 1 POY – John "Rob" O'Neal
Kobuk School Principal John "Rob" O'Neal has been named Alaska Association of Secondary School Principals Region 1 Principal of The Year for 2020. Kobuk School is a Pre-K through grade 12 school in the Northwest Arctic Borough School District. He shares this award with fellow principal Scott Lefebvre of Ambler School.
Lorrie Wilson is a teacher in Kobuk and says she's witness Principal O'Neal's commitment on a daily basis – not only to students but the community, teachers, and staff.
"He works tirelessly for the greater good. He is concerned for the physical, mental, and cultural health of Kobuk and goes above and beyond to provide the best support he can for us all," Wilson says. "He is always in our classrooms and hallways, making sure this school is running smoothly. I look forward to coming to work, though I don't think of it as work. I enjoy the happy climate and am satisfied that this is the best school I've ever taught at."
Kobuk resident and parent of two, Anna Snell agrees. "John (Rob) O'Neal is an amazing principal! He is always smiling, cares about the Kobuk kids more than anyone I've seen come through Kobuk," she says. "He always puts kids first, prides himself in doing things that benefit our kids, strives to be the best at his position, and treats everyone here with respect."
This is Principal "Rob" O'Neal's fifth year as the Kobuk principal. Principal O'Neal came to Kobuk as a principal and teacher in 2010 and is in his ninth year as a principal/administrator. He taught in Arizona and Idaho before coming to Alaska where he has also served as a principal in Thorne Bay and Cordova. "I hope he stays forever," said Snell.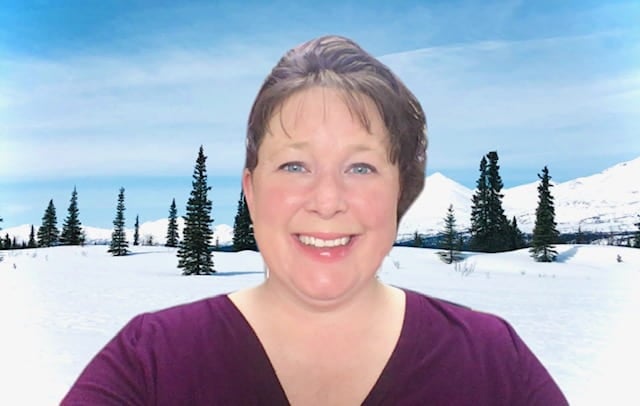 Region 2 POY – Jeni Mason
Cantwell, Anderson and Denali PEAK school Principal Jeni Mason has been named Alaska Association of Secondary School Principals Region 2 Principal of The Year for 2020. Cantwell School is a K-12 school; Anderson is a K-12 school, and Denali PEAK is a correspondence school all in the Denali Borough School District.
Principal Jeni Mason rarely sits still. As principal to three separate schools – Cantwell, Anderson and Denali PEAK – she doesn't have time to pause, starting her day early in order to begin the drive between Cantwell and Anderson schools.
Her daughter, Jaydyn, who was just one of a number of others who nominated Principal Mason for Regional Principal of The Year, says Mason is "usually in classrooms or meetings, finding substitutes for teachers who are sick, and talking to kids when they get sent to the principal 'all the time.'"
"My mom is always telling me about how awesome teachers are doing and how proud she is of all the students. She helps all kids and teachers. I think she is the best principal ever," says Mason.
Assistant Principal Garin Martin says despite juggling multiple leadership roles, Principal Mason demonstrates consistent and solid leadership in each of the three schools by working closely with parents, guardians, individual families, staff and other stakeholders to develop educational plans that meet the needs of all students.
Trinity P. is one of those students in Anderson School and says Principal Mason checks in with her each day that the principal visits the school and helps her with study skills that make typing and writing easier.
"Ms. Mason showed me how to make a brainstorm sheet first, then she helps me with my fingers on the keyboard. I like her," says Trinity.
During the COVID-19 pandemic that required schools to close doors and implement distance education, Principal Mason lightened the mood by hopping into video conferences and various meetings dressed like Batwoman, wearing backward clothes or hunting gear, and even having messy hair.
Region 3 POY – Christopher Brown
Homer Flex High School Principal Christopher Brown has been named Alaska Association of Secondary School Principals Region 3 Principal of The Year. Homer Flex High School is a public school in the Kenai Peninsula Borough School District.
Fellow principal and AASSP Board member Kari Dendurent says Principal Brown is a collaborative colleague who is a valued part of the Alaska Alternative Schools Coalition.
Principal Brown worked with the National Council and the Southern Kenai Peninsula Resiliency Coalition to implement Trauma Informed Practices in school, and is a strong advocate for small schools and underserved populations. He focuses on incorporating and prioritizing mental health in schools and is a Youth Mental Health First Aid trainer.
Because of his focus on professional development opportunities that keep staff engaged and his attention to staff needs and policy changes, his school boasts an impressive 100 percent staff retention that has lasted more than four years. He is quick to serve both students and staff.
"Principal Brown takes on multiple additional duties for his small school including shoveling the walkway, preparing lunches and meeting with local mental health providers bi-weekly to discuss student academic success," says Dendurent. "His focus is on creating a safe and caring environment and prioritizing relationships."
Region 4 POY – Sean Prince
Bartlett High School Principal Sean Prince has been named Alaska Association of Secondary School Principals Region 4 Principal of The Year. Bartlett High School is in the Anchorage School District.
Principal Sean Prince is a servant leader whose staff says he is always sure to make himself available and accessible to students, staff and family. He can often be found strolling the halls of Bartlett High School, shaking hands with students, helping staff with administrative work, visiting classrooms, attending extracurricular events, or taking up a mop and cleaning the floor if need be.
"He is adept at fostering strong relationships with all members of the school community," says Assistant Principal Kaci Stephens, adding that Sean works tirelessly to create a warm and welcoming environment at Bartlett High School while being an extraordinary instructional leader.
Staff says Principal Prince creates a strong support system for his teachers and works alongside them to encourage their efforts as they meet the needs of Bartlett students.  As a leader of a Title I school with large concentrations of low-income students, his dedication to setting high expectations, emphasis on resiliency despite odds and clearly defined goals for student achievement has led to an impressive 20 percent increase in graduation rates at Bartlett High School, defying expectations.
"Sean Prince is an outstanding principal and ambassador for Bartlett High School," says colleague Holly Zumbro, ASD Principal, Activities and Student Services for Secondary Education. "He sets high expectations for his admin team and staff, and then allows them to work without micromanaging. Over the past five years, Mr. Prince's aspirational vision for Bartlett has provided a unifying and infectious message that is recognized in the positive branding accomplished during his tenure. Walk the halls and hear: 'The sun always shines at Bartlett', 'As always, go Bears!' or their mission reference, 'A dedicated family of lifelong learners.' These affirmations now run deep in Bartlett's culture, demonstrating Principal Prince's lasting impact."
Look for Part 2 detailing POY awards for Regions 5-8 soon!