For the past 9 months, over 300 teachers from across Alaska have been attending Code.org curriculum workshops to learn how to implement computer science in their classrooms. Alaska has recently joined 33 other states in adopting its own K-12 computer science standards with the goal of preparing students for careers and college programs in fields as diverse as data science, computer programming, video game design, cybersecurity and film animation. 
K-12 professional learning in Alaska has always been unique. It is not uncommon for teachers to have ride in small planes across tracts of wilderness, drive snow machines across frozen tundra or connect via sometimes unreliable microwave internet networks to participate. While the methods are sometimes dramatic, the goal is the same as anywhere: To bring world class instruction to our students, no matter where they reside. The new computer science professional learning workshops being offered by Alaska's Code.org Regional Partner the Alaska Staff Development Network (ASDN) are no different.

A great example of how Alaska 'does' Code.org training recently took place in the Delta/Greely School District. This year, Delta/Greely made a commitment that 100% of their student body would have the opportunity to learn computer science, becoming the first Alaskan school district to do so. Of the decision to provide this opportunity, District Superintendent Shaun Streyle said, "We must prepare our students for the world in which they live. Most importantly, we must continually shift our focus to training our students "How to think" as compared to "What to think". Computer science instruction trains our students to be problem solvers, it trains our students to adapt to continually changing situations, it trains our students that no one answer or path has to be the solution. Employers today are looking for those that can look at a problem and find paths to the solution."
In August, staff from across the district and from across the curriculum gathered for a one-day training led by Alaska's Code.org Program Manager Cheryl Bobo. Participants drove many miles, some close to 100 miles, to gather among full tables of potluck dishes brought to share and ever-full pots of coffee to learn together. 
The participants represented all aspects of K-12 public education; from the school district Superintendent and elementary principal, to a P.E. teacher, a librarian, a special education teacher, paraprofessionals, a grants administrator and all grade classroom teachers. Even two retired teachers joined in. There were new staff and seasoned staff, those with an interest in computer science and those new to it, a group reflective of the many perspectives of opportunity that computer science represents.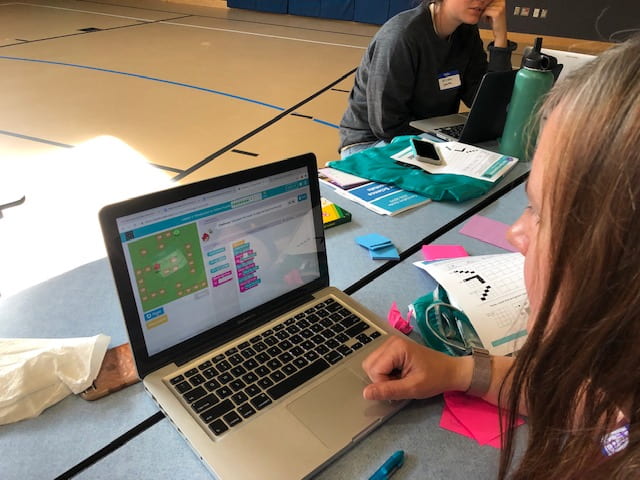 Together, everyone learned that computer science is not reserved only for a computer class or elective, and that it can be taught across the curriculum. One great moment of the day occurred when the PE teacher shared how computer science concepts could easily be brought into physical education lessons that show students how 'coding' simply means giving directions on how to complete tasks.
They also learned that computer science does not always have to be online, and dependent on internet broadband. A key concern in Alaska related to teaching computer science has been that the more rural or remote one goes, often the less reliable the internet connection. Computational thinking, a foundational computer science concept, can be taught in a myriad of ways, many of them not involving an online device. 'Unplugged Lessons', like the game 'Move it, Move it!' where students create their own mystery map puzzles and work together to figure out the answer, got participants out of their chairs to learn how computers work through 'coded' directions.  
Most importantly, they learned that computer science is for every student, despite location, background or academic level. At the heart of computer science education is the belief that products and services produced by people using computer science skills are best produced by a workforce that values and reflects a diversity of opinions and life experiences.
After the training, Delta Junction Elementary 3rd grade teacher Janine Todd said, "This will be an exciting year as we work together as a staff to implement the technology standards via Code.org. What a fun way to encourage teamwork and partnering, while developing higher level thinking skills through problem solving. I am already confident that we teachers will probably learn more from our students than they will learn from us."    
Alaska is well on its way to bringing computer science opportunities to every student. ASDN's computer science professional learning work is graciously supported by GCI Education, Microsoft and the Alaska Department of Education. To learn more about computer science and how to bring it to your classroom in Alaska, find more information from ASDN at https://asdn.org/code-org/
Thank you to GCI, Microsoft and the Alaska Department of Education and Early Development for their support of ASDN's efforts to expand access to computer science education in Alaska!
---
Have a story to share from your own school/district? You can either fill out this Google form, or simply send Sam Jordan content directly to work up a post.  We are looking for posts of no more than 500 words, accompanied by 1-2 pictures if available. If you need ideas, check out this doc https://bit.ly/2HDqyGx