The Our Alaskan Schools blog is excited to host our second student blog post. This post comes to us from four middle school/high school students at Rampart School in the Yukon-Koyukuk School District. We are excited for this opportunity to share the exciting things happening in Rampart from the perspective of these amazing student-journalists!
Last year, Rampart was selected as one of two communities in Alaska to participate in a pilot water purification program. This program provides an easy and affordable way to access clean water by making a water filter for you and your family. The project is called Village Safe Water and is a part of the Water Division for the Alaska Department of Environmental Conservation (dec.alaska.gov/water.aspx).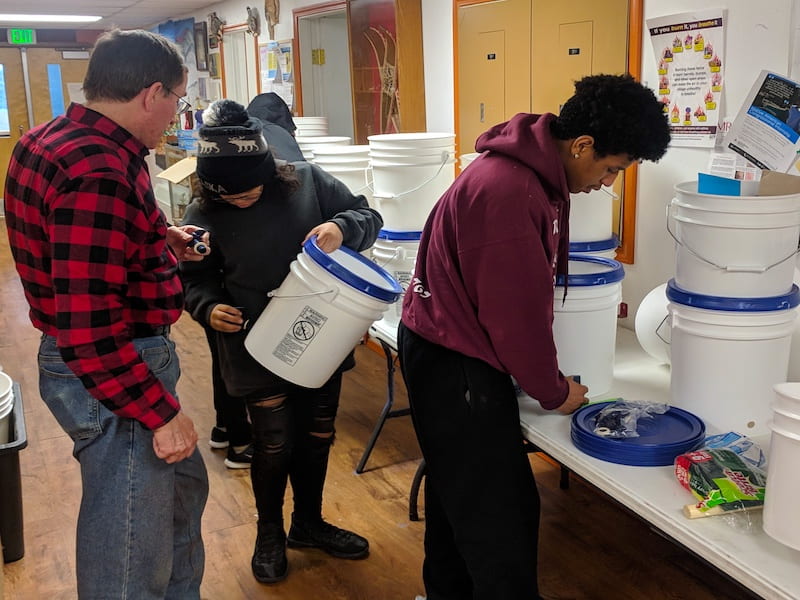 Water engineers, Chris Schulz and Chase Nelson, came to talk about this problem and provide water filters to all the homes in Rampart. Chris' inspiration to become a water engineer was from a professor in college. As Chris moved on from college, he made water filters (like the one we are writing about today) for Mayan descendants in Guatemala.
Chase's story for becoming a water engineer is similar to Chris'. Chase grew up in Sitka, Alaska. He said that as he was studying, he saw how much of a problem unsafe water can be.  As he said, "Everybody doesn't need to be sick all the time by drinking nasty water."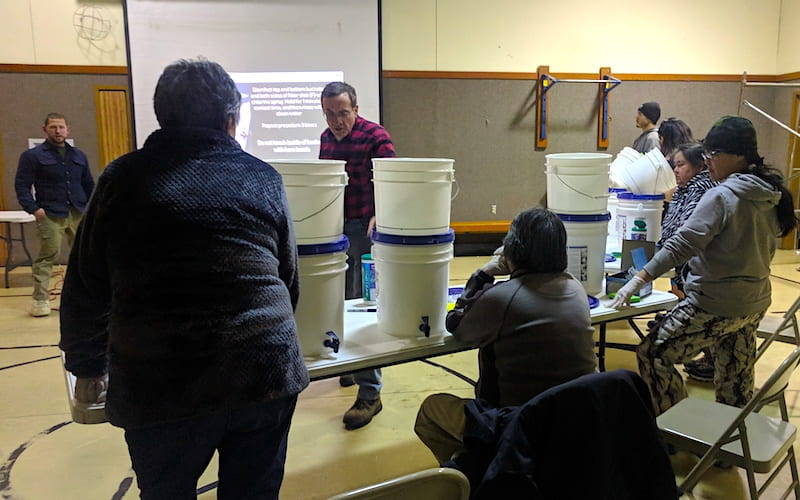 The current water sources for Rampart are Minook creek (about a mile outside of town) and chemically treated water from a community well that is used to supply water for the washeteria, clinic, and school.
Students at the Rampart school built a total of 18 water filters to learn the process.  Later that day, community members rebuilt the filters with the help of the students and water engineers.  These filters provide a reliably clean water source for each of the homes and school in Rampart.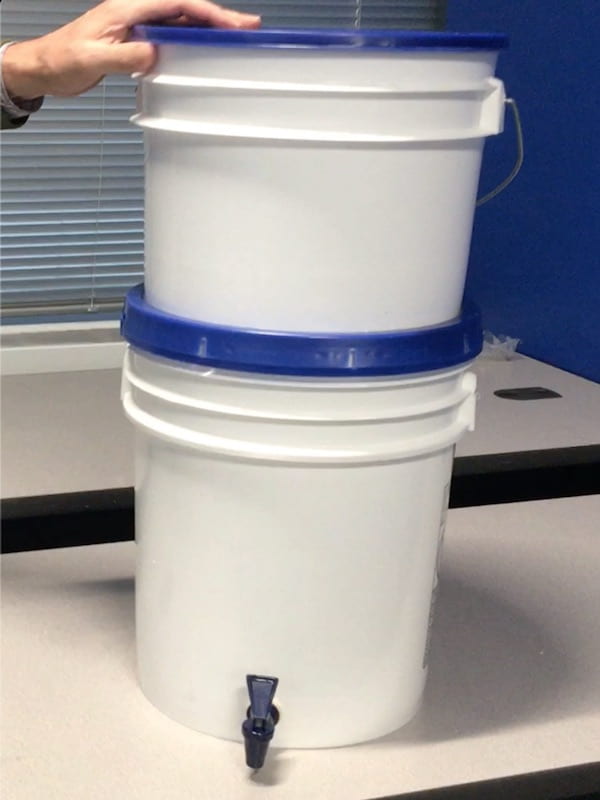 Why is safe drinking water important?
Safe drinking water is important for many reasons.  Forty percent (40%) of the world's population doesn't have safe drinking water. The World Health Organization says that "every year more than 3.4 million people die from water related diseases, making it the number one cause of disease and death around the world.  Most of the victims are young children."
There are good bacteria and bad bacteria. Good bacteria are the bacteria that help you digest and decompose your food and fight other invading and harmful bacteria. However, bad bacteria in water can cause a lot of illnesses.
Unsafe drinking water can cause diarrhea, cholera, dysentery, typhoid and polio. (Vestergaard) Some of these illnesses can be lethal.  The design of this filter it to stop these and provide safe drinking water.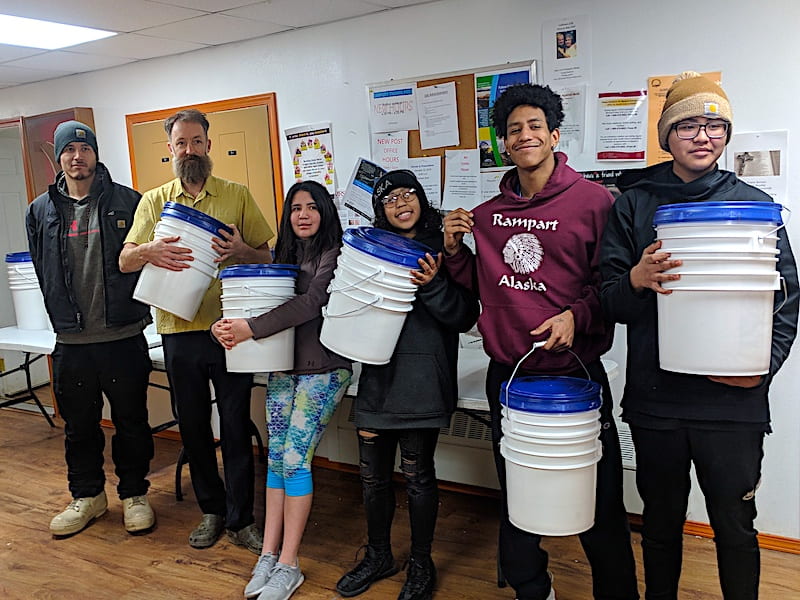 How the filter works
The bacteria in water is about 4-6 µm (micrometer = one millionth of a meter). The ceramic water filter contains pores that are about 2-3 µm. The pores are much smaller than the bacteria, which blocks them. So, when you pour water into the top bucket, the water works its way through the filter pores and goes into the bottom bucket, leaving the bacteria behind.
Inside the bottom layer of the disc, is a sand-like substance which contains carbon, providing additional molecular filtration. Carbon bonds with other particles like chemicals. Chlorine, a chemical used to treat water, is removed through this substance. When chemicals come in contact with the carbon layer, it will trap the particles, purifying the water even more. This process is a very simple and effective way to get clean water.
To ensure proper filtration, water is tested to see how much bacteria is in the water before and after filtration. Samples of filtered and unfiltered water are sent to Fairbanks to be tested twice a month. Samples from
the other village in the pilot program, Chefornak, Alaska, show the unfiltered water had about 200 bacteria and the filtered water had 0 bacteria.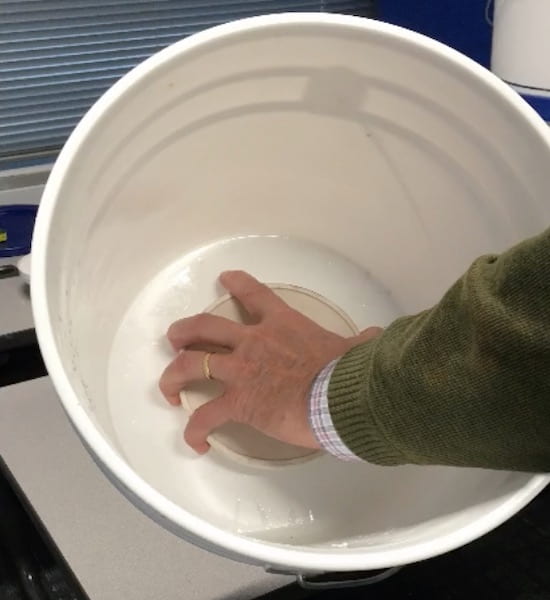 How to Build
This filter is easy and affordable to make (estimated cost is around $20).
Items needed:
1 – Five gallon bucket                                                             1 – Three gallon bucket
1 – Nozzle (with rubber stoppers)                                           1 – Water filter
Steps:
Sterilize buckets by cleaning with bleach.
Put hole (same size as water filter) in the bottom of three gallon bucket. Put the filter in and secure it tightly with nut.
Put hole (same size as nozzle) in the side of five gallon bucket. Secure the nozzle in the hole with the rubber stoppers and a nut.
Position the three gallon bucket into the five gallon bucket securely.
Put water in the filter and let it sit for a night. Empty the filter in the morning.  (Do not use water from the first filtration; this is used to clean the filter and filter system.)
References:
Alaska Department of Environmental Conservation; http://dec.alaska.gov/water.aspx 
World Health Organization (WHO); "Waterborne Disease is World's Leading Killer"; www.voanews.com/a/a-13-2005-03-17-voa34-67381152/274768.html
Vestergaard; "Waterborne Diseases"; www.vestergaard.com/global-challenges/waterborne-diseases
---
Have a story to share from your own school/district? You can either fill out this Google form, or simply send Sam Jordan content directly to work up a post.  We are looking for posts of no more than 500 words, accompanied by 1-2 pictures if available. If you need ideas, check out this doc https://bit.ly/2HDqyGx