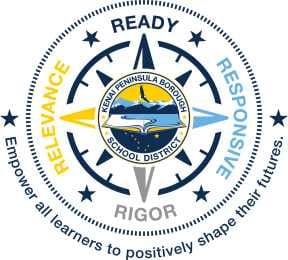 The Kenai Peninsula Borough School District may encompass over 26,000 square miles, but the support new teachers have make it feel like everyone's within walking distance of each other.  The range of school sizes often results in singleton teachers with a grade level configuration or content area, so connecting teachers has been a priority for KPBSD leaders.  Research by Hattie (2009) affirms what many knew instinctively; collective teacher efficacy almost quadruples typical teaching efficacy with an ultimate effective size 1.57!
In support of KPBSD teachers, those new to the career receive support through a two year coaching cycle with full time release coaches who have a depth of experience, training, and knowledge, that is unmatched by many.  This exclusive team of teacher leaders uses a variety of tools in support of teacher growth, while grounding their reflection on teacher practices within the Danielson Framework for Teachers.  A calibrated alignment between what school administrators look for and the coaching provided to new teachers forms a common platform on which coaching is separate from but tightly coupled with, the KPBSD educator evaluation framework.  This symphony of effort results in teachers experiencing perfectly timed support that maximizes the teacher's growth and successful assimilation into the profession.
As teacher experience increases, the support provided for teachers change to allow for a more personalized approach.  While there are required site-level professional development activities, these activities complement optional district-level activities that are all in support of the district's strategic plan.  Also available are ongoing opportunities to learn and improve in the use of adopted instructional tools, as well as on-demand coaching support for even the most experienced teachers who want support while trying out new strategies or tools.
To further the goal of collective teacher efficacy supporting student achievement, the communities of the KPBSD have supported a monthly "early release day" that provides a minimum of 90 additional minutes for teacher teams to collaborate around the guiding questions of successful professional learning communities.  Examination of student learning products, analysis of lesson outcomes, and shared problems of practice, supports KPBSD teachers in tapping into the collective wisdom present in the district's experienced faculty.  While student success is the ultimate goal, supporting collective teacher efficacy is a key tool that supports our shared success.
---
Have a story to share from your own school/district? You can either fill out this Google form, or simply send Sam Jordan content directly to work up a post.  We are looking for posts of no more than 500 words, accompanied by 1-2 pictures if available. If you need ideas, check out this doc https://bit.ly/2HDqyGx