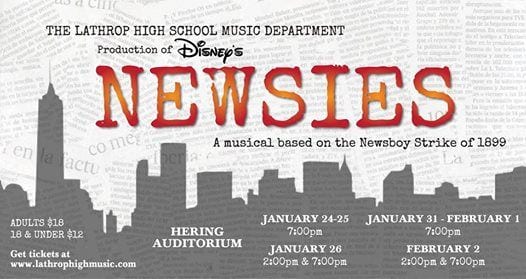 Nearly 100 students from Lathrop High School have come together for one of the best musical theater productions of the year with "Newsies." On stage, back stage, and in the box office, the students have put together a real winner of a show.
The play opened Jan. 24 and runs for two weekends at Hering Auditorium in Fairbanks. It's a musical that everyone in Fairbanks should make sure to see.
Senior Dane Soderlund plays the lead role of Jack, the organizer of a strike by the newspaper boys living in New York. The newspaper boys are upset because Joseph Pulitzer has raised the price of newspapers they have to buy before selling.
Credit goes to teachers Carolyn Soderlund and TJ Hovest for helping the students get the show ready for the stage. Carolyn has taught choir at Lathrop since the 1980s, and she is retiring at the end of the school year. Hovest is a relative newcomer as the band teacher for the past five years.
I attended the show on opening night, Thursday, Jan. 24, and more than 500 people braved the Fairbanks winter temperatures to see the show. Dane was ably supported by junior Tony Dickinson and freshman Isaac Dershin as two of the other key paper boys. Junior Allie Plachinski plays Pulitzer's daughter and the love interest of Jack. All the lead character showed tremendous talent with both singing and acting.
Newsies follows in a long tradition of high quality musical performances at Lathrop, including Hairspray, Mary Poppins, The Wizard of Oz, Little Shop of Horrors, Beauty and the Beast, Once on This Island, You're a Good Man Charlie Brown, and Grease.
---
Have a story to share from your own school/district? You can either fill out this Google form, or simply send Sam Jordan content directly to work up a post.  We are looking for posts of no more than 500 words, accompanied by 1-2 pictures if available. If you need ideas, check out this doc https://bit.ly/2HDqyGx