James T. Hutchison High School or 'Hutch' as we affectionately call it, is a Career and Technical Education (CTE) school of choice within the Fairbanks North Star Borough School District. We enroll approximately 100 students per grade, 9th-12th grade. In addition to our core 400 students, there are 164 students from across the district that attend classes at Hutch on a part-time basis.
Hutch provides an integrated learning environment within a culturally diverse community, where academic and career-technical experiences encourage a life-long love of learning, personal integrity, civic mindedness and preparation for successful post-school employment.

Hutch has 5 focused career cluster areas that students take course work in: Arts A/V (everything in front of and behind the moving and still camera), IT (computers, networking), Construction (building trades, drafting, and welding), Transportation Distribution and Logistics ("Auto", small engines, auto, collision and repair, and heavy equipment operations), and Health Occupations (basic introductions to the allied health professions; pharmacy technician, CNA).
Students apply to attend Hutchison through a lottery application process. Last year we had a record 270 applicants for 110 spaces. We take a lot of pride in having a strong school community. Because our students choose to come from all across the district we find that all students really get the opportunity to be true to themselves and their interests. We find that our students tend to identify and group more by their cluster groups, rather than the sport or activity to which they are involved, reinforcing communities of learning.
One particular focus that we have is on workplace readiness skills; those skills that define the attitude and attributes that tend to make workers more successful over the long term their chosen field. Employers need young adults who will show up to work, show up on time, and work well with others. Grades alone do not show this information, and in some cases can work to obscure it. In each course, our instructors reinforce workplace readiness skills and encourage students to reflect on how they rate using a 'workplace readiness score' that measures productive workplace attributes.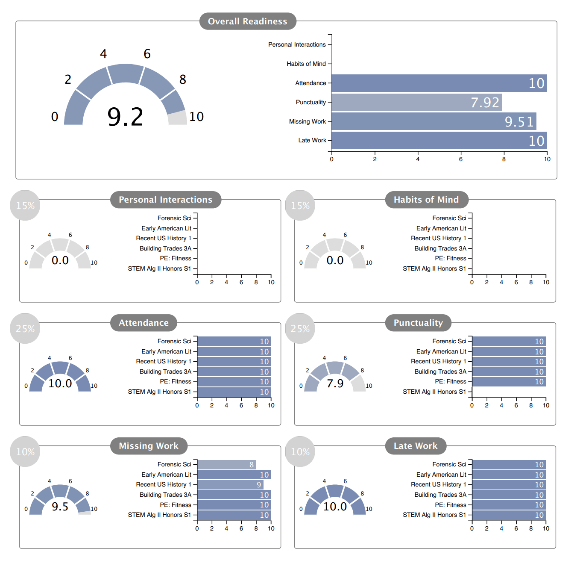 An overall measure of our success that we are proud of, and that we feel signifies that we are providing an engaging and well-rounded education, can be seen in our high graduation rates. For the past three years, Hutchison is pleased to have maintained graduation rates of over 93%. The staff at Hutch is proud to be a leader in preparing Alaska's next generation!