As Alaskans know, living in remote areas under harsh winter conditions can be challenging. Add in the fears, restrictions and isolation of a pandemic, and life can be downright overwhelming. In response to those shared challenges, staff at North Slope Borough School District (NSBSD) started a 'Messages of Hope' campaign asking students to draw and share what hope means to them.
As part of NSBSD's focus on trauma engaged Social-Emotional Learning (SEL) strategies and suicide prevention, with support from the USED ANEP Strategies for Inupiaq Success (SISamat) and the Department of Education Suicide Prevention (SAPP) grants, school counselors and staff asked students to create artwork. The plan was to select two submissions to be honored from each school. Once students started drawing, more and more students joined in with their ideas and interpretations of "hope" — for themselves, for their communities, and for the future.
As these messages of hope began to add up, schools in NSBSD started creating "walls of hope" in their schools' hallways and cafeterias. They were eager to showcase images of positivity. Many drawings were from elementary students, but secondary students joined in as well. Even educators were inspired to contribute their interpretations of hope. Students at Barrow High School and Nuiqsut Trapper School shared their hope though song. They produced a radio worthy song, School Counselor Jocelyn Niedziela says, "The song reminds us it might be stormy now, but it can't rain forever."
With support of Superintendent Pauline Harvey, the activity kicked-off in December 2020. School counselors fostered student engagement through hosting radio shows on KBRW, the area's public broadcasting station. What began as a short-term effort to promote student engagement has transformed into an ongoing project. According to School Counselor Sable Marandi, "At Hopson Middle School we have incorporated HOPE in its multitude of dimensions, including dimensions of Compassion or Nagliktuutiqaġniq, Cooperation or Paammaaġiigñiq, and Sharing or Aviktuaqatigiigñiq, into our daily culture."
NSBSD Director of Student Services, Lori Roth, describes the project as a "grassroots effort" that just keeps growing. A team of more than 40 school and district staff has formed, meeting monthly to share strategies and successes related to building hope and resiliency in students.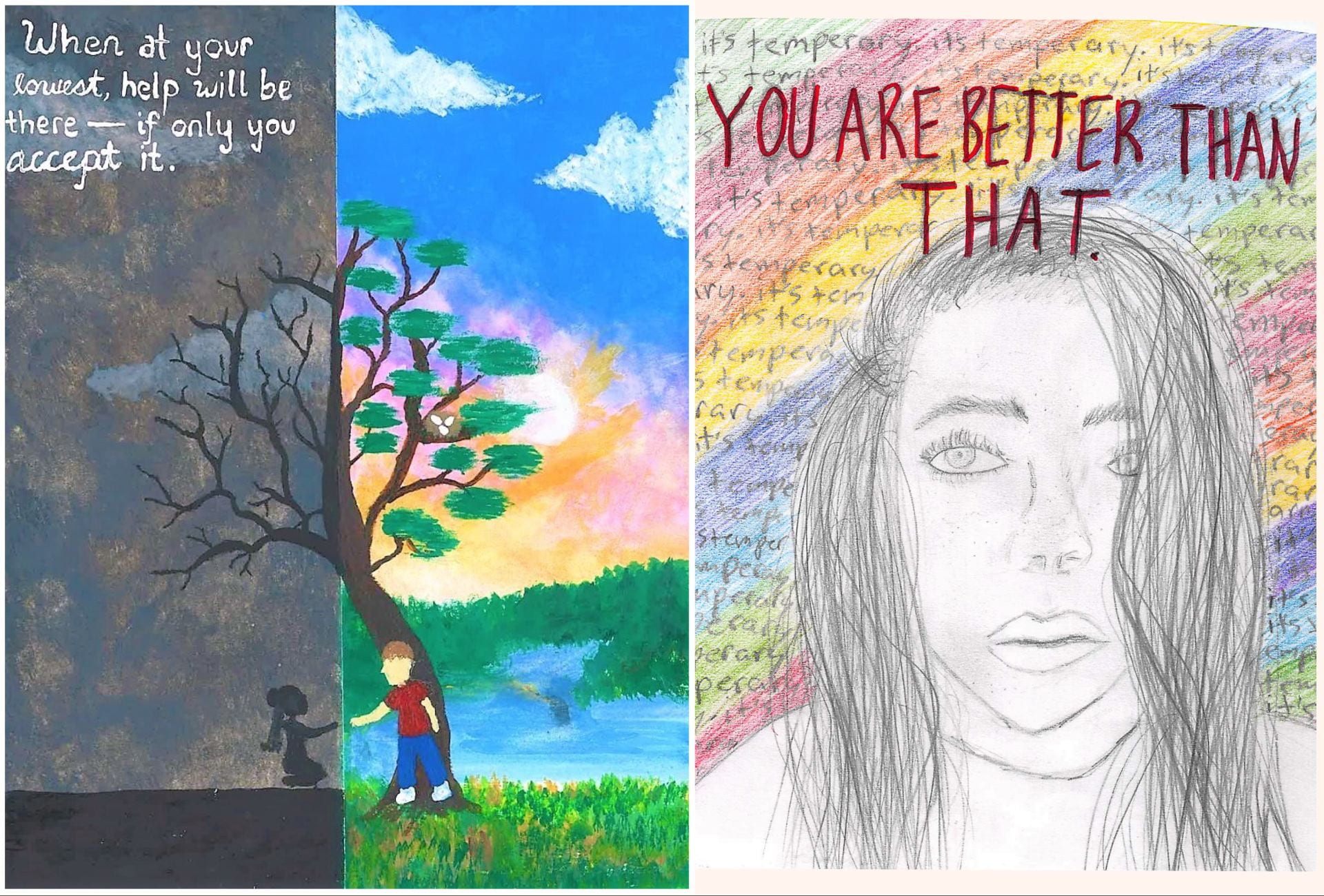 Even as some North Slope Borough communities have weathered hardships and tragedies this spring, Colleen Puryear, Home and School Facilitator at Nuiqsut Trapper School, says, "Students have continued to show hope even though there was despair. We want it to be a normal thing that we are constantly spreading hope."
The Messages of Hope project will culminate late this spring in the printing of hundreds of temporary tattoos depicting the selected student pictures from each school. The tattoos will be distributed to all the communities, along with a number of grant-funded iPads and other awards. According to Sharene Ahmaogak, Ronald Brower, Inupiaq Education Coordinator, translates "Kisimġiuŋitchutin" to mean "You are not alone" in Inupiaq to promote suicide awareness. She shared a 'Certificate of Hope' created for all participants to acknowledge them as 'Ambassadors of Hope'.
Submissions can be viewed on the NSBSD Facebook page. Lisa Peterson, NSBSD Communication Specialist says, "The positive response from the community was fantastic; even when the activity was over, submissions continued to pour in. Right now, we all need hope."
This and other efforts to enhance student wellness and success in the North Slope Borough schools through SEL strategies, Inupiaq cultural awareness, and student opportunities are supported by the Strategies for Inupiaq Success (SISamat) grant, managed by Alaska Staff Development Network (ASDN) founder and Project Director, Kelly Tonsmeire in collaboration with the Department of Education & Early Development Suicide Prevention Grant managed by Sharon Fishel.