Growing up, I played team sports. Through this experience, I learned that a team is only successful if all of the athletes are willing to work together toward a common goal. As I transitioned into a classroom teacher, I approached my profession with the same attitude. I loved to bounce ideas off of coworkers, share successes, failures and seek help when needed. I knew that in order to become a better teacher, I had to work with my colleagues toward a common goal: the success of our students. 
In Fall of 2019, I became an Alaskan educator. I had the opportunity to attend multiple conferences, and while the presenters were incredible, a common theme stuck out to me. The camaraderie and support among educators across the state is incredible, and unheard of in the states where I have previously taught.  I was so inspired by everyone's willingness to share and learn from one another. Teachers from the North Slope, across the Interior, and to the Southern Coast all have unique perspectives. As we come together and share our ideas, the Alaskan student body as a whole benefits. 
With the global pandemic, many conferences were canceled and the ability to connect with educators across the state decreased. I wanted to do something that would further the connection between Alaskan educators. Thus, the Google Educators Group of Alaska (GEG Alaska) was established! 
GEG Alaska is an independently run community of educators who inspire and empower each other to meet the diverse needs of students through technology both in the classroom and beyond. The goal of GEG Alaska is for educators who are passionate about education and technology to meet like minded people and share, learn, and collaborate together. I strongly believe that all educators should have a platform where they feel safe to share, regardless of their position, certifications, badges or Google Suite knowledge.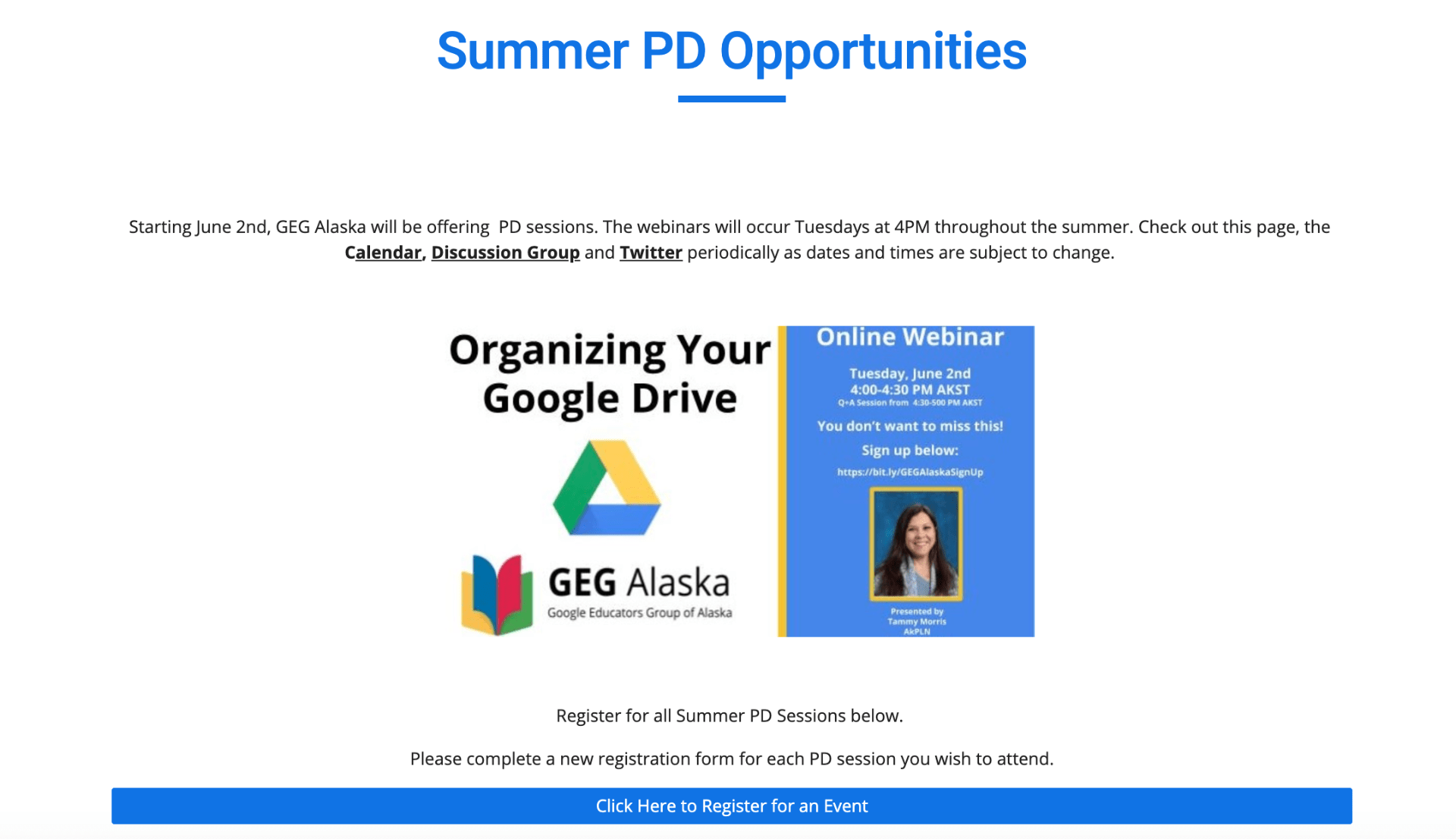 This summer, GEG Alaska will be offering weekly, virtual  professional development sessions.  The sessions will  focus on Google Suite tools with the opportunity for participants to share ideas and ask questions.  Educators interested in participating can visit our website and sign up using the Registration link. We encourage educators who would like to formalize their sharing by hosting a Professional Development Session to email gegalaska@gmail.com 
In addition to professional development, GEG Alaska has a Google Group Discussion Board where educators are free to ask questions, inform others of upcoming events, conferences, and professional development opportunities, and connect with other Google-using educators in Alaska. We all have different Google Suite strengths and weaknesses, the Google Group is a great place to share both. Information on how to join the Google Group is posted on the GEG Alaska website.
If you are a Google Suite for Education user, we would love for you to join us! We welcome educators of all experience levels from just learning about Google tools to Google Trainers and Innovators. Regardless of our personal skill levels, we all have something we can learn from one another. As we continue to learn and connect, we become better equipped to teach our students. 
For more information, visit the GEG Alaska website, Twitter, or email gegalaska@gmail.com.
The GEG Alaska Leadership Team includes Chelsea Hurst, Allison Curry, Tammy Morris, Tana Martin, Laura Davies, Megan Gunderson and Christina Hum. We could always use more help! If you're interested in joining the leadership team, please express your interest to gegalaska@gmail.com