Community outreach is a key aspect of the Port Graham Middle School, grades 5-8
(multi-grade classroom). Each year we, as a class, choose from a teacher created list of
community out-reach projects. Two years ago (school year 16-17), we formed a collaboration
with the Port Graham Hatchery and ADF&G to participate in the salmon rearing program:
Salmon in the Classroom.
Last year (school year 17-18) we decided that we would continue
with Salmon in the Classroom and provide a service to the community by raising chickens and
donating the eggs to the community elder's program director, "hatching" the Eggs to Elders
program. So, what could we possibly do for the 18-19 school year? Indoor farming!
Port Graham School received a grant to build the Chena Grow Tower, a vertical hydroponic system
made using everyday hardware store items. The first semester was dedicated to design and
assembly while semester two has been designated for maintenance and delivery of fresh
lettuce to the community elders. Not to leave the salmon and chickens out of the fun, they too
are a large part of our community programs in the 18-19 school year.
As if our year hasn't been packed enough with STEM-style projects and community
outreach, our salmon initiatives have gained the attention of Cook Inlet Aquaculture
Association (CIAA), overseers of the Port Graham Hatchery, and we have created a further
collaboration with the hatchery staff. Once a week, the middle school students travel to the
hatchery and participate in on-the-job training and skills that are applicable to real world
scenarios. This partnership has sparked units in salmon biology, introduction to and proper
use of shop equipment, and knot tying. Semester two of this collaboration holds further study
of the previous units and applications.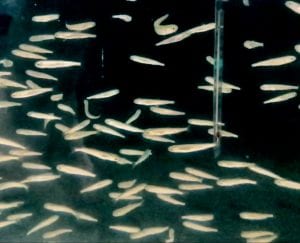 We maintain a high level of rigor and expectations with our everyday curricula. The
students meeting the expectations and rising to the challenges presented, has allowed for our
class to participate in such wide ranging, real world, tactile lessons. The students rely on us as
educators, and we as educators rely on the students to strive for their goals. This mindset and
understanding will only propel this middle school group to meet those goals more efficiently.
GO KILLER WHALES!
---
Have a story to share from your own school/district? You can either fill out this Google form, or simply send Sam Jordan content directly to work up a post.  We are looking for posts of no more than 500 words, accompanied by 1-2 pictures if available. If you need ideas, check out this doc https://bit.ly/2HDqyGx