Special thanks to BSSD teachers Luzviminda Dinglasan and Lya Duncan for their contributions to this blog post.
Five students from Bering Strait School District advanced from their school science fairs to the Alaska Science & Engineering Fair in Anchorage Alaska. The students represented Gambell and Wales, two rural Alaskan villages with populations of 630 people and 160 people respectively. With the support of the Rural Alaska GEAR UP Partnership, the competitors and their teachers flew 735 miles from their remote villages to Anchorage to participate in the statewide competition.
The five students entered three projects into the high school and middle school divisions. Their projects focused on creating plastics from eggshells, 3D printed carbon-mineral based water filtration, and making stretchier slime While at ASEF the students practiced their public speaking skills while presenting their projects to Science Fair judges and special visitors.
Their research and hard work paid off as they brought awards back to BSSD. The student who researched slime earned a Silver Ribbon. The student who studied "Production and Physical Characterization of Eggshell Powder/Polyvinyl Alcohol Solution Composite as Plastic Film" earned both a Gold Ribbon and US Airforce Award for Promotion of Technological Innovation. The team of students who researched "3-D Printed Carbon Mineral Based Filter for Water Contaminants Removal" won a Gold Ribbon, a US Airforce Award, the Unified Alaska Utilities Excellence in Water Treatment Award, and the Alaska Resource Education Award. Best of all, they also won team the US Stockholm Jr. Water Prize, so they will be moving on to competition at National Level. They will be competing in Colorado next month.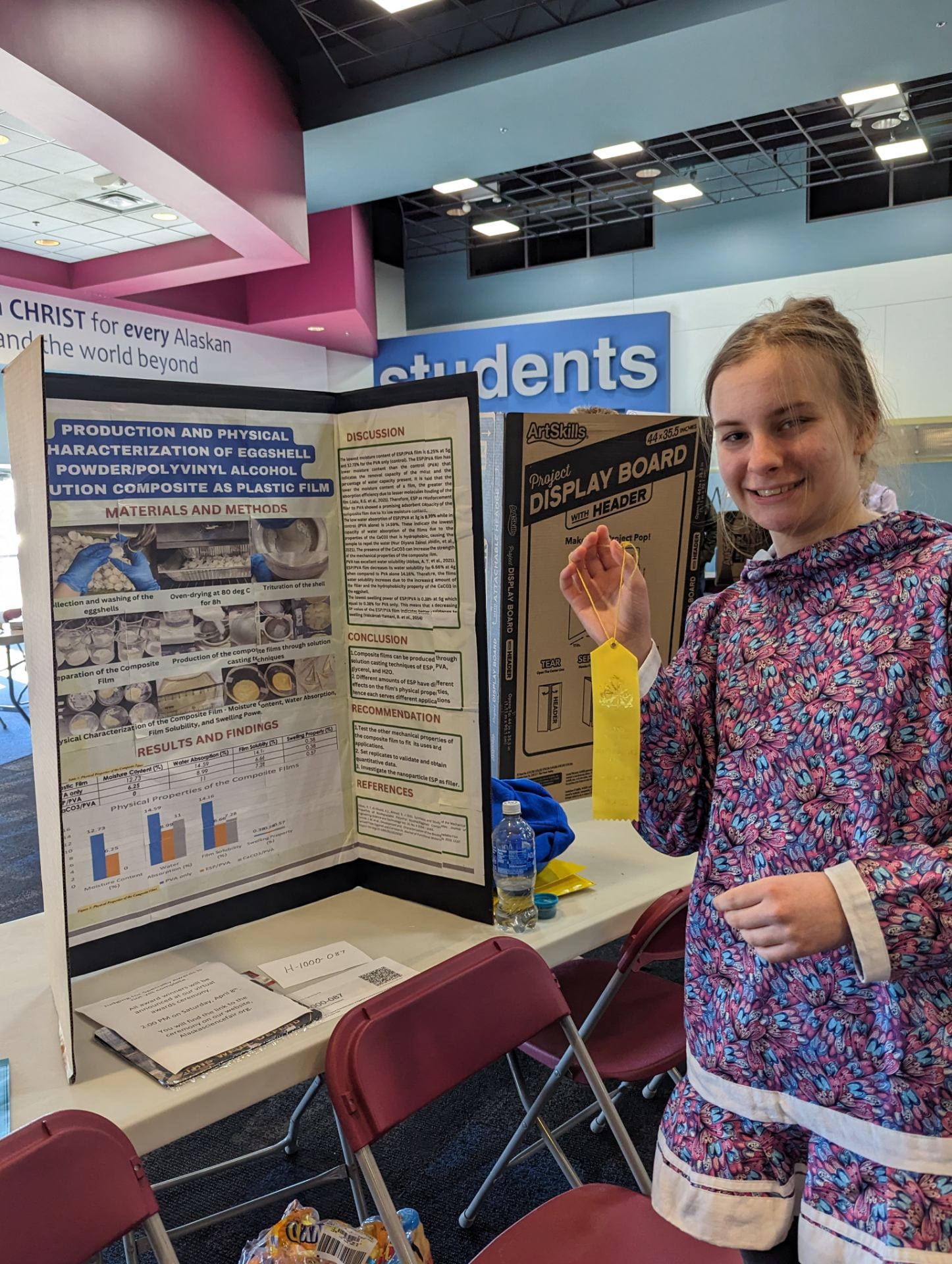 To top it all off, Gambell School brought home the trophy for Outstanding School, and Gambell School teacher Luzviminda Dinglasan won the Outstanding Teacher Award.
Science, math, and STEM are one of the areas of focus the GEAR UP Partnership, which is designed students for post-secondary education. These award-winning students are definitely ready for the next level. Congratulations to our BSSD students and teachers on their outstanding showing at the Alaska Science & Engineering Fair. 
You can watch the Awards Ceremony here: