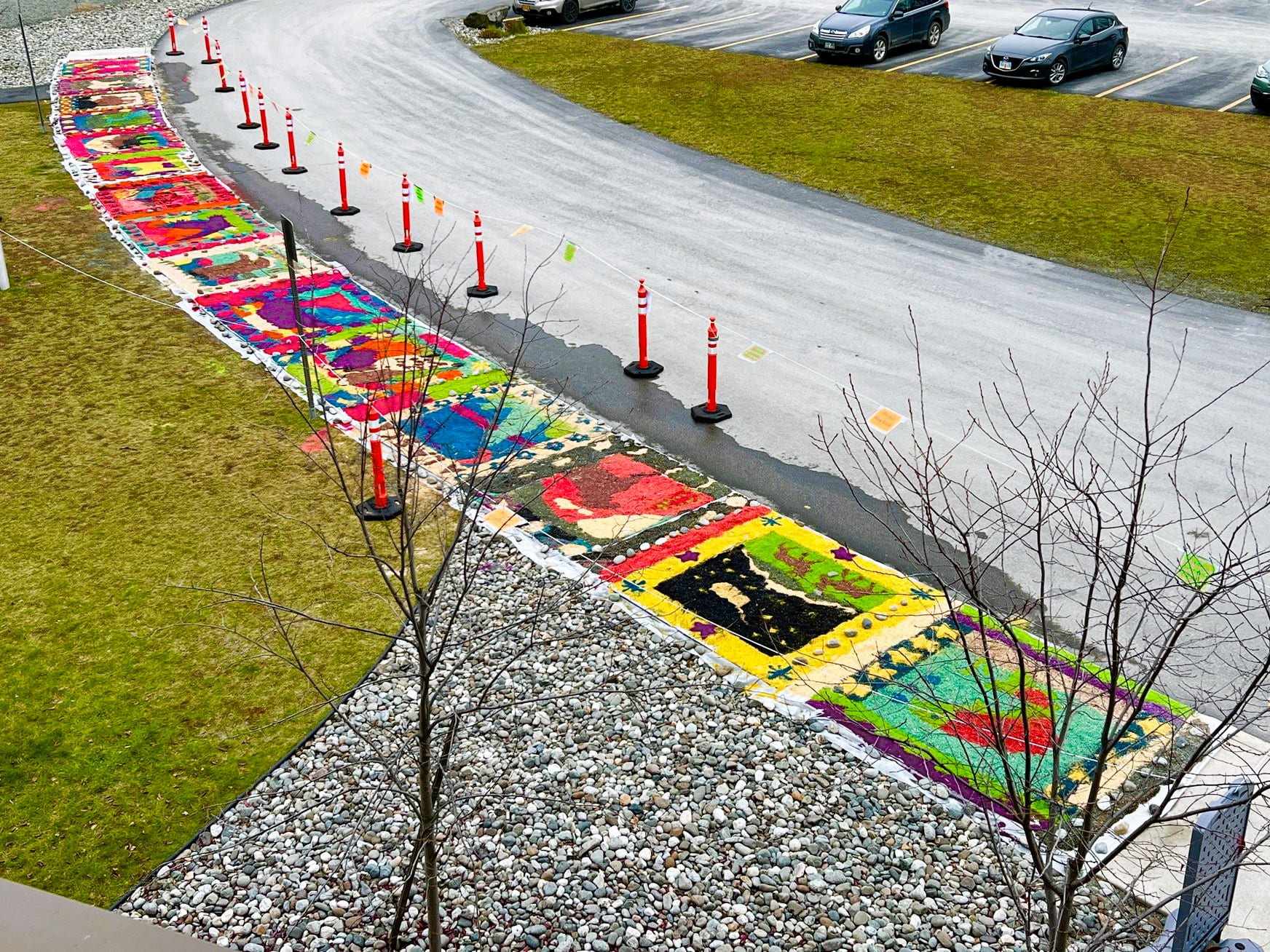 To celebrate Hispanic Heritage Month, 4th and 5th grade artists at Fronteras Spanish Immersion Charter School in Wasilla, AK created a 160 foot long alfombra de aserrin (sawdust carpet) on our school's front sidewalk.
Sawdust Carpets (Alfombras de Aserrin) are one or more layers of colored sawdust laid on the ground as decoration. Sawdust carpets are traditionally created in Mexico and Guatemala and are used as part of Semana Santa (Holy Week) celebration, welcoming Good Friday and Easter processions of religious icons carried through the streets. Although sawdust carpets take days to design and create, it takes only minutes for them to be happily and reverently destroyed by the shuffling feet of participants in religious processions.
As Spanish explorers and settlers started coming to the Americas, they brought this tradition of sawdust carpets with them. It is believed that sawdust carpets became particularly popular as a way to share the teaching of Christianity, particularly the story of the crucifixion and resurrection of Jesus Christ. Over the years, this religious tradition has become more inclusive, with non-Christians joining in the celebration and creation of sawdust carpets. Today artists use non-religious designs like birds, animals, bouquets of flowers and geometric designs.
This project was designed to allow students to practice collaboration, and the large-scale helped to ensure that all students would need to be actively involved in the creation of the final piece. In addition to developing important classroom skills, this project also helped respond to challenges that resulted from Covid-related school closures. The isolation many students experienced during Covid has increased the need for intentional opportunities for students to build back social skills, like asking for help, navigating conflict, and being a team player.
Covid has also eroded students' attention spans, resilience and perseverance. The alfombra took nearly a month to complete with an immense amount of preparation required. Students worked in groups designing, drawing, cutting cardboard stencils, coloring sawdust using fabric dyes, and practicing sawdust application. Each step completed inched them closer to being ready to create and gave them an opportunity to practice collaboration and work ethic!
Our alfombra was created in about two hours using nearly 400 pounds of sawdust. Students carefully placed sawdust by hand and with the help of cardboard stencils to fill areas on their pre-drawn designs. It was fun to watch students' progress as the sawdust revealed celebrations of our own unique Alaskan culture, as seen in the kid's designs: Xtra Tuffs, salmon, ptarmigan, moose and more. By blending the techniques used to create alfombras de aserrin in Guatemala and Mexico with Alaskan imagery, students were engaged in authentic learning of culture through art making rather than misappropriating a culture's artworks by creating a simple craft. It hovered near freezing all afternoon, with a slight breeze but our Alaskan kids are tough. The alfombra was misted with water when complete, which froze the sawdust and helped to prevent wind damage.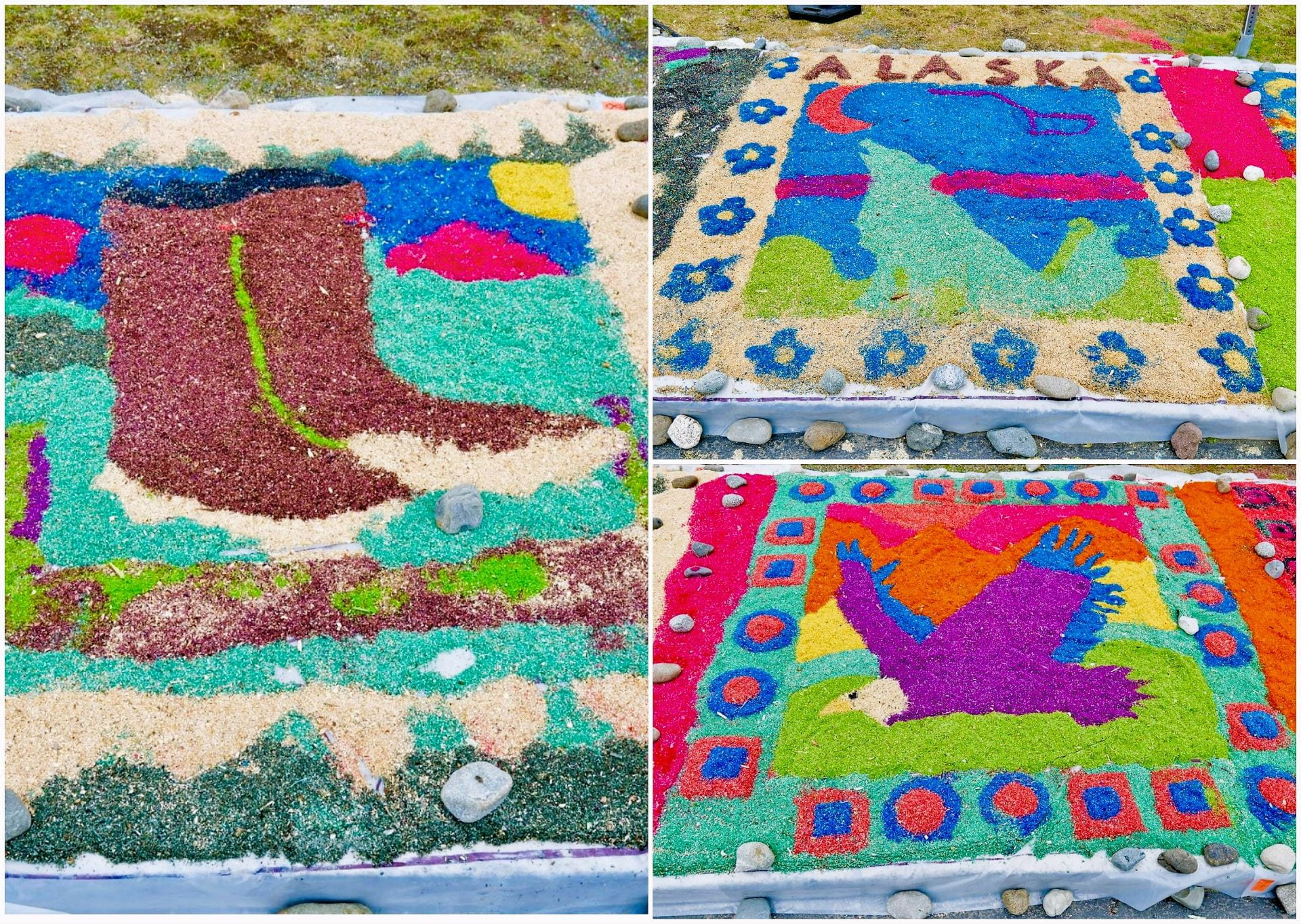 Our school community was able to enjoy the artwork over the next two days as families visited the school for our annual Hispanic Heritage Month celebration which included dancing, shared food and a showcase of students' language acquisition. Our student artists studied ephemeral art from other cultures and destroyed the alfombra in a respectful manner that honored the art and their hard work.