This spring in Denali Borough School District, we collectively engaged in supporting our students to share their learning through a specific student-engaged assessment strategy called Celebrations of Learning. Celebrations of Learning invite students to publicly engage and assess their learning experiences through reflection. We saw enhanced student engagement when our students were able to reflect on and take the lead of their work. Taking ownership of these experiences encouraged insight, self-assessment, and complex learning, and was especially nurtured when our students wondered about their learning publicly with others. Making learning public became an authentic purpose that empowered and motivated our students to care about the quality of their work.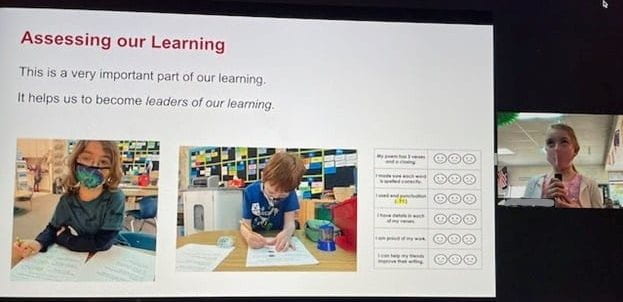 Celebrations of Learning is a community event that nurtures classroom-based learning experiences that ensure that students are fully empowered in the process of understanding themselves as learners. Students presented high-quality products and performances that were often modeled after real-world formats and intended for audiences beyond the classroom. The ultimate intent of Celebrations of Learning was to invite students to reflect on and articulate what they have learned, questions they answered, research they conducted, and areas of strength and struggle in order to understand and take ownership of their own growth as learners.
                  Eric Filardi, Principal, Anderson School
In the following paragraphs, we share reflections from both students and teachers about their experiences with Celebrations of Learning. To see recordings of student presentations and artifacts of student work from our Celebrations of Learning please visit our Wakelet here: https://wakelet.com/wake/K4jOw115naJHLpphb4ukm.
Tri-Valley School Voices
"What stands out to me the most about our Celebrations of Learning was the student's ability to articulate the process of their own learning. My students participated in many feedback and revision cycles and we documented all of their drafts. Because of this, they could tangibly see their progress and could pinpoint the aspects of the process that helped them the most. They presented to their families and community members and this authentic audience motivated the students to do their best work.  My students felt prepared and confident. This experience will change the way they think about their learning and the way I teach. Focusing on the learning process not only created a high quality final product, but it allowed students to understand the way they learn. Watching them shine in this way is the reason I am a teacher." 
                  Kassandra Mirosh, Secondary Teacher, Tri-Valley School
"I think that Celebrations of Learning was a really great experience. As a student, it allowed us to be creative and take control of our learning, and then teach and share it to others in our community. It also helped us learn different character traits that will help us outside of the classroom."
                  Danika Hamm, 8th grade student, Tri-Valley School
Anderson School Voices 
"I am new to the concept of Celebrations of Learning, but have found it to be extremely valuable. Working with students to enable them to tell the story of their own learning encouraged metacognition in a way I've rarely seen, and led to students facing and examining their own path to knowledge not as a series of assignments but as true growth. Students showed off the high-quality products of their own work in a way that mattered to them, and one that reflected real-world experiences with real stakes. I thought this would just be another example of students saying "Here's my essay," but it became much, much more."
                  Eli Holmes, Secondary Teacher, Anderson School   
 Cantwell School Voices
"Celebrations of Learning positively challenged all involved to learn new things. Students, parents, teachers, staff, grandparents, relatives, friends, community members, and so on were asked to try something new, different, and for most, way out of their comfort zones. As a teacher who enjoys new things, learning new technologies and techniques, but most of all, likes to learn from others and not reinvent the wheel, I appreciated being challenged to take on a new way of showcasing our students. It was a super positive experience because Denali Borough School District's administrative team walked us, the teachers and paraprofessionals, through the steps to get to this day in a series of professional development sessions and inservices which ended with our wonderful Celebration of Learning that linked our district's students and staff and greater communities." 
                  Marie Gore, K-8 Teacher, Cantwell School
"This year I discovered something about myself, I am a motivated learner. Throughout the year I became more open to accepting feedback from my peers and adults on my work and actions. From this feedback I learned from my mistakes and kept pushing myself to learn more. I am proud of my accomplishments this year and celebrations of learning was a positive way to share my learning with the community of Cantwell."  
                  Jaydyn Mason, 6th grade student, Cantwell School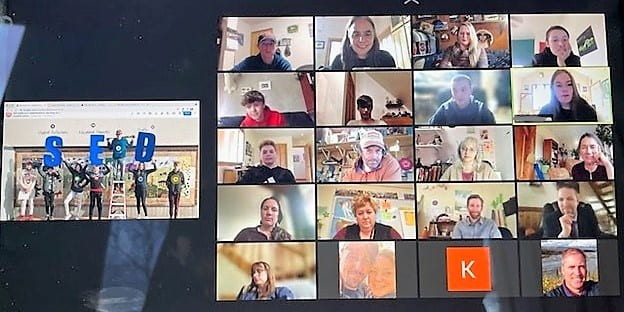 Enduring Reflection
For many of us who sat in the audience and watched our students and teachers rise to this challenge, even in the middle of the pandemic, our enduring impressions are that we've never seen this kind of student presentation or this kind of reflection by our students. Their voices and the excitement and motivation they had for sharing about their learning left impressions in our hearts and built bridges with our communities and families. 
"Celebrations of Learning provided our students the ability to reflect on this year. Through the challenges during the pandemic, they developed and grew. Watching the students' Celebrations, I noticed the authentic nature of their reflections on what they learned and how the projects changed them for the better. They shared about their academic growth and how persevering through rounds of revision and feedback with their peers developed their character to become stronger humans. These are the moments that help us all commit to our mission of nurturing, inspiring and empowering today's student to positively shape tomorrow's world."
                  Dan Polta, Superintendent, Denali Borough School District