For the Lower Kuskokwim School District (LKSD), staying local isn't just a mandate during the pandemic — it's a long term strategy for learning. Recognizing the need for language resources to boost proficiency in the Yup'ik language, as well as a desire for curriculum that students could relate to, the LKSD administration embarked on a multi-year project to create K-12 social studies and science curriculum that addresses both these needs.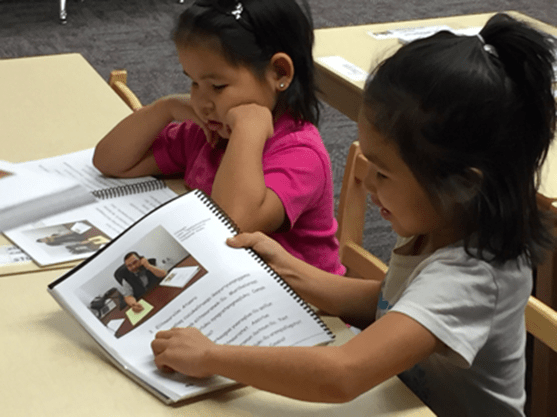 With funds and direction from the Quyurramta ("All of Us Together") grant from the U.S. Education Department's Alaska Native Education Program, LKSD set out to translate existing texts (with generous permission from TCI publishers) into Yugtun, the Yup'ik language. According to Andrea Engbretsen, LKSD Director of Human Resources, they drew on a core group of local speakers with "academic-level proficiency" to create mirrored translations of social studies and science books, beginning with Kindergarten texts.
In addition to the translations, LKSD realized they needed to adapt and "localize" some of the curriculum so that students could relate to and better "see themselves" in their school lessons, says Director of Elementary Education, Christina Robbins. Localizing examples to include caribou hunting and whaling, as well as inserting photos of Yup'ik children and families, can engage students in their learning in ways that food chain descriptions talking about cows in Iowa just can't do, explains Robbins. They knew it was working, Engbretsen says, when they had middle and high school kids coming into the primary classrooms on their breaks just to look at the text books. "That's my cousin!" they'd exclaim. "That's my teacher!"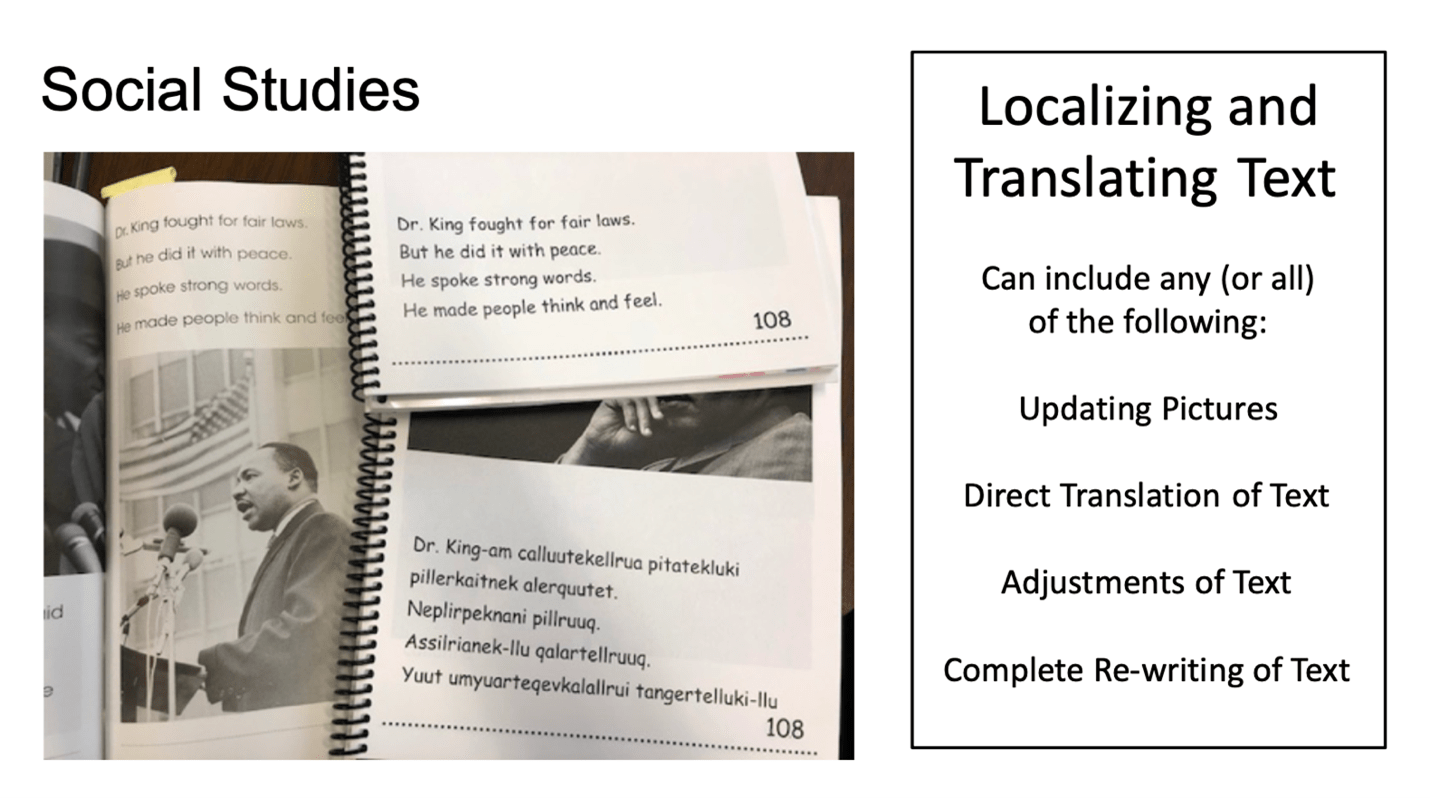 More than just showing happy pictures of local children, though, the texts were thoughtfully adapted to include local historical events and people, as well as cultural traditions. This process turned out to be a delicate balance of retaining important national and global examples, while substituting local information where appropriate. For example, a text retained stories about Dr. Martin Luther King, Jr. and Rosa Parks, but inserted information about the Molly Hootch Act in place of a section on Daniel Boone and Harriet Tubman. Still, says Robbins, they were mindful not to limit themselves to only local examples, because "kids also need to know about farms and cows and Iowa."
With a number of the schools in the Lower Kuskokwim School District operating entirely dual-language programs, the need for this localized curriculum was very evident. But the English-only schools also use the translated and adapted texts to engage students in their local language and traditions. "Language is culture," says Robbins. "When the language dies, the culture dies" she warns. These texts go a long way to keeping Yup'ik language and traditions alive in schools.
Since the first modified text, "Me and My World" was sent to sites in 2014, enthusiasm for the project has grown, with many local individuals and groups involved in creating a whole range of texts for grades K-6 and beyond. Released in stages as each grade level of science or social studies curriculum is completed, new texts are in varying stages of creation, with 3rd grade science in Yugtun arriving in schools this Spring. For the elementary students using this curriculum over the past several years, seeing themselves in the stories and photos "has been really important," says Robbins, "and we see higher engagement."
Efforts to enrich educational engagement through Yup'ik language acquisition and cultural connection continue in LKSD under the Quyurramta grant in collaboration with grant partner Alaska Staff Development Network (ASDN). Kelly Tonsmeire, ASDN founder, serves as the Quyurramta Project Director, and spearheads work in these areas.