Nick Hanson is on a mission.  He wants to motivate every kid in Alaska to know who they are and to know their purpose in life. In 2015, Nick became the first person of Inuit/Inupiaq background to compete in the NBC TV show American Ninja Warrior (ANW). Since then, he has used his fame to connect with kids across the state and encourage them to choose a path of positivity and health.
Recently, Nick spoke to Alaska public school leaders at the 2019 Alaska Principals' Conference. Our Alaskan Schools was lucky enough to sit down with Nick and get to know more his passion for uplifting Alaska's youth. 
Born and raised in Unalakleet, Alaska, a town of 750 people on the Norton Sound Coast that is only accessible by plane, Nick has firsthand experience of the benefits and challenges of growing up in rural Alaska. 
It has become Nick's life work to leverage his visibility on TV, and his athletic discipline and natural optimism to challenge the narratives in kids lives – to push them to better know themselves and to find the inner strength to live a positive life. Nick sees that his rural Alaskan childhood gives him unique insight into how to motivate Alaskan kids. When he is not training (he often trains 4-6 hrs per day), Nick serves as a motivational speaker, and has visited schools all over Alaska, as well as in the lower 48 states. He is also a coach for the Native Youth Olympics (NYO) in the Bering Strait region. 
Nicks approach to motivating is infectious. As a dedicated professional athlete who competes in not only the American Ninja Warrior, but also in the Arctic Winter Games and the World Eskimo Indian Olympics, it's his example that attracts many kids to his message. "I just have the same mindset of the kids when I'm out in schools", Nick says. When he arrives on site at a school, he often arrives carrying his own wall. Called the 'Warped Wall' on American Ninja Warrior, competitors run 12-14 feet straight up and grab the top. Nick uses this dramatic athletic example to show students that self-discipline, self-awareness, practice and positivity can allow anyone to achieve seemingly unattainable goals.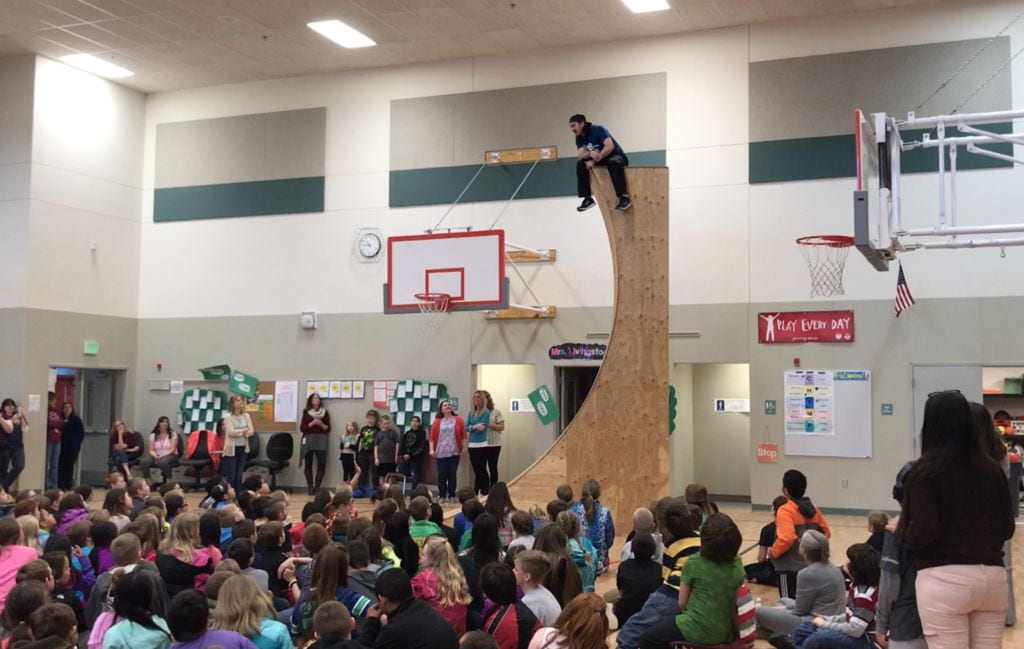 Through the lens of 'American Ninja' challenges and NYO games, Nick is able to bridge the gap between pure athletics and celebrating the uniqueness of Alaska Native culture. "For me, Ninja is about sportsmanship and NYO is about passing down traditions and skills. The two sports really complement each other perfectly." Nick's favorite competitions, including the events he holds world records in, are the Scissor Broad Jump and the Toe Kick. 
Nick's work in schools has led to a greater focus on the issue of suicide prevention in Alaska. After high school, Nick experienced the loss of 11 of his high school basketball teammates/classmates to alcohol related suicides. Supported by GCI Communications, Nick speaks to students, families, school leaders and communities about his own story of adversity and loss in order to empower people to overcome obstacles in their own lives and inspire others to do the same. Of his work, Dr. Pam Lloyd, Vice President of Corporate Strategy for Government, Healthcare, and Education at GCI says, "Nick has the unique ability to make people feel energized and inspired—he brings joy wherever he goes. But it is his willingness to share his personal struggles that is most impactful. We want to help spread Nick's energy and message to as many Alaska students as possible and that's why GCI supports Nick's mission."
As for the future, smiling, Nick says "I'm just riding the wave". He will again be competing in competing in American Ninja Warrior and the Arctic Winter Games in 2020. He is also looking into the possibility of creating an American Ninja Warrior/Native Youth Olympics gym somewhere in Alaska. Most importantly to him, however, is continuing to use his unique story and natural ability to inspire and connect with youth around Alaska to support them in finding their unique purpose in life. "Whether I'm still completing, coaching or possibly becoming a teacher one day, I will always find a way to connect with kids. It's just the work I've been called to do." 
To find out more about Nick, check out his website at https://theeskimoninja.com/ and connect with him on Instagram at https://www.instagram.com/eskimoninja/.