During the noon hour of April 25, 2019, the Alaska Council of School Administrators (ACSA) and the Alaska Staff Development Network (ASDN) held a 'Snack and Study' event at the Alaska Capitol Building about the importance of computer science in Alaska's Schools. Sponsored by Representative Harriet Drummond and Representative Andi Story, the event presented basic information about computer science, discussed why it represents a new literacy in the education curriculum, and how it can help fill existing jobs and define new ones in the Alaskan economy.  The event was supported by Code.org, a nonprofit dedicated to expanding access to computer science in schools and increasing participation by women and underrepresented minorities.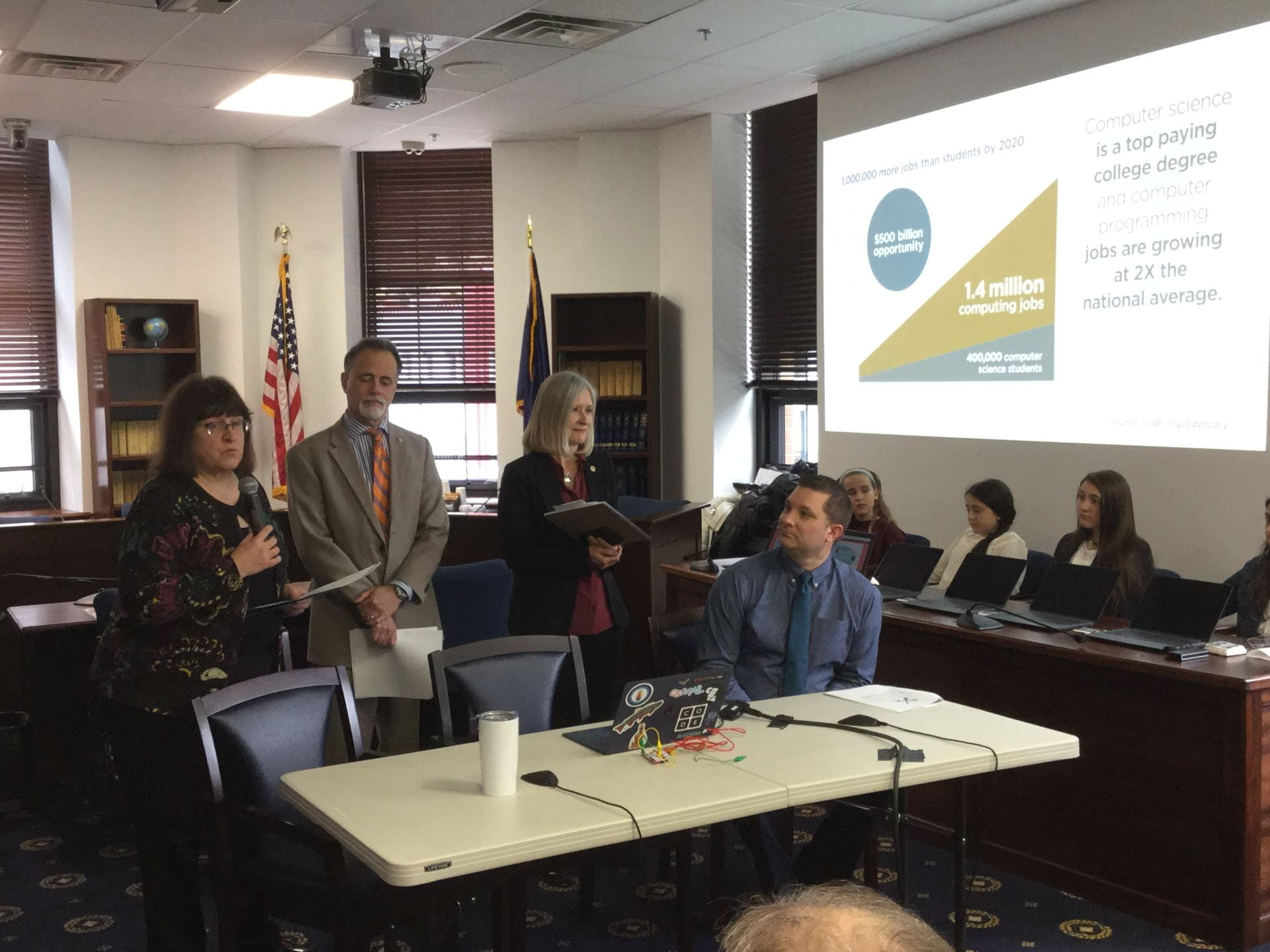 Representative Drummond, Representative Story and Senator Micciche provided opening comments. Both Representative Drummond and Senator Micciche stressed the fact that there are existing jobs in computer science available now to trained Alaskan workers – which Code.org estimates at 728 open jobs just in Alaska with an average salary of $72,323. Representative Story introduced four Juneau School District students attending as computer science experts and recognized Superintendent Bridget Weiss, whose staff supported the event with computer equipment.
Dr. Lisa Skiles Parady, Executive Director of ACSA, then discussed the current efforts underway by ASDN as the Code.org Regional Partner to provide professional development to Alaska's educators. So far in the 2018-2019 school year ASDN has trained 232 educators, representing 111 schools and 30 out of 54 Alaskan school districts. Of those teachers taught, 56% work in high need schools, 80% are in rural or remote schools and overall will be impacting an estimated 1,541 students, 49% of which are female. Dr. Parady thanked GCI, ExxonMobile and Microsoft for their support of this professional development work in Alaska.
Next Sam Jordan from ASDN discussed how computer science and coding is infused in most people's lives, and how every app and computer program, and even our microwaves, require computer coding to work properly.
Then the real fun began. Four students from Juneau School District taught Representative Drummond, Representative Story and Senator Micciche to do basic coding through a program called Scratch. They collectively created a game called 'Capitol Bounce', where each Legislator had to create a character, give it a unique sound and make it move (bounce) around the screen when a controller button was pushed.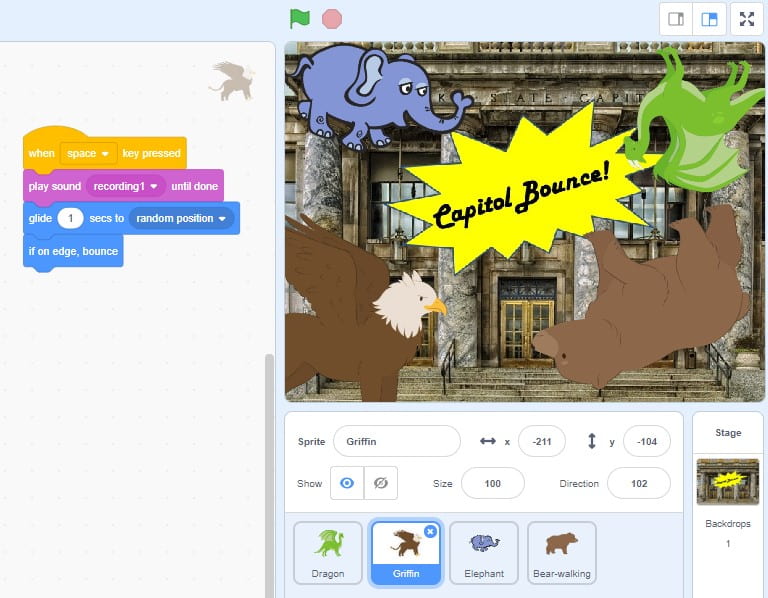 Representative Story chose a bear, making it growl loudly.  Representative Drummond created a griffin that said "Watch out I'm coming!" Senator Micciche created an elephant with an amazing self-produced elephant sound. Once the game was created, the group used a controller called Makey, Makey to attach fruit (a banana, orange and dragon fruit) to the computer to control the game. It's now an instant Alaskan classic in video game options.
Sam Jordan finished the formal presentations by sharing how one school in Yakutat has used computer science to change the life of one of its community members.
To end the event, all attendees were invited to come write computer code using the 'Hour of Code' platform.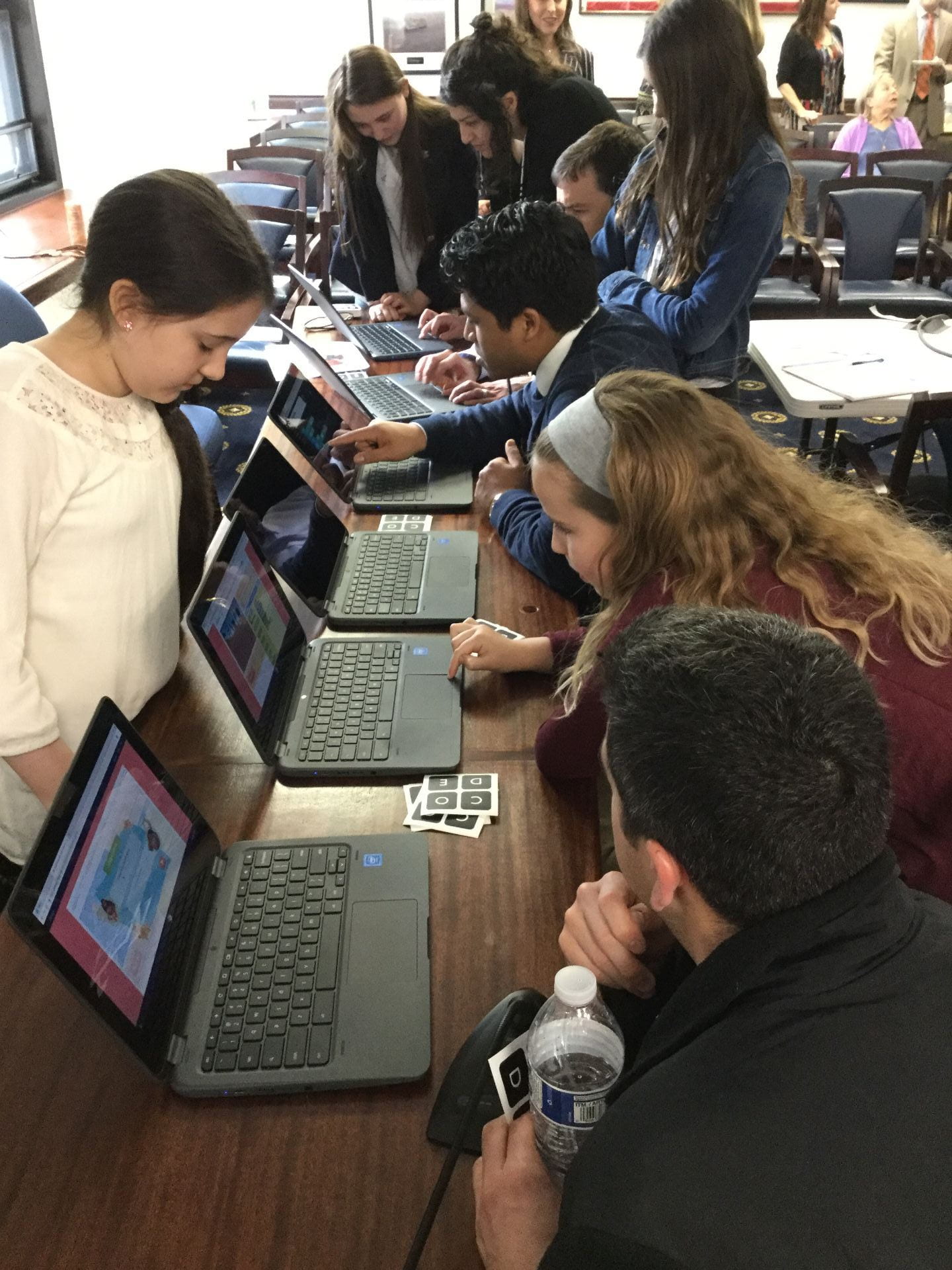 You can watch the recording of the entire event on Gavel Alaska.
Thank you to GCI, Microsoft and the Alaska Department of Education and Early Development for their support of ASDN's efforts to expand access to computer science education in Alaska!
---
Have a story to share from your own school/district? You can either fill out this Google form, or simply send Sam Jordan content directly to work up a post.  We are looking for posts of no more than 500 words, accompanied by 1-2 pictures if available. If you need ideas, check out this doc https://bit.ly/2HDqyGx