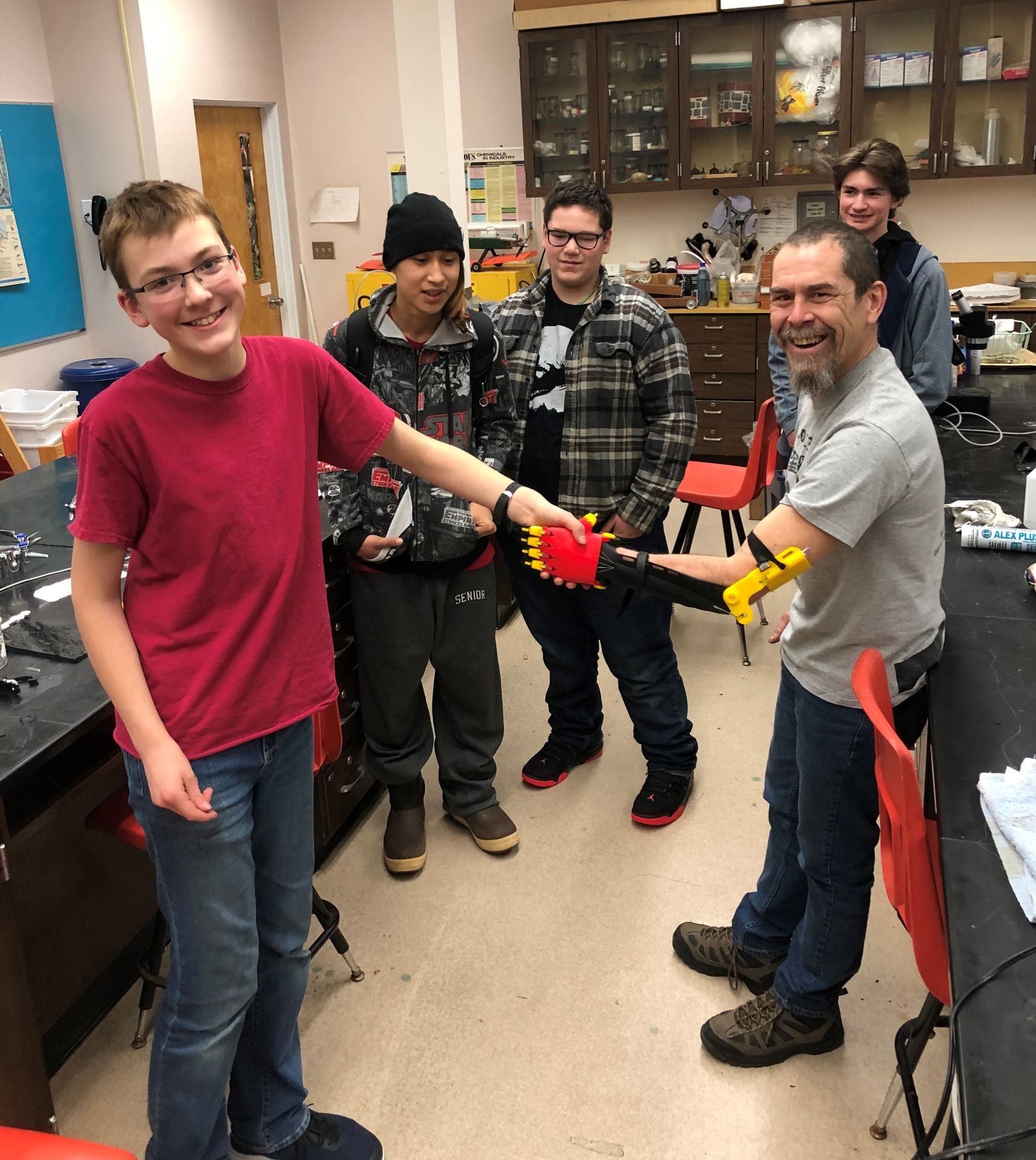 34 years ago, in the small Southeast Alaska coastal town of Yakutat, Darin Bremner, then a high school student, was involved in an accident at school.  During a home construction class, a saw slipped and cut off his hand.  Efforts by doctors to reattach the hand were unsuccessful. Darin says that the accident has impacted everything.  "You can feel it when people notice your difference – they stare or look away. I've used prosthetics with hooks for years but had always dreamed of having a more functional hand."
Jump forward to 2019. Yakutat students brought this story full circle when they invited Darin Bremmer back to the high school Makerspace to use a 3D printer to create a custom mechanical hand.
High School math, science, language arts and CTE teacher Nate Endicott, who grew up in Yakutat and knows Darin, called him in late 2018 and asked if he'd be interested in seeing if the students in his Makerspace class could build him a mechanical hand. Yakutat schools had recently invested in a 3D printer, and students had seen that one of the most useful projects being printed around the world were prosthetics for people without limbs.
The class initially printed a static hand that could be added to Darin's existing prosthetic, but after looking at its limited function and proportion to his other hand, they used precise measurements of his right hand and arm to develop a new design for a functional prosthetic hand.     
Working with graphic design software, they revised the over one million lines of computer code comprising the printed hand design and 3D-printed a unique hand for Darin with thermoform (heat activated) plastic.
The class then carefully fitted all of the moving parts of the red and yellow prototype.  They brought Darin in to ensure that the design was comfortable and proportional to his other arm.  Students made some minor adjustments to the hand design and then asked Darin what color he wanted for his permanent hand.  He chose black and white.  Not long after, Darin was presented with the final product.
Of the project, teacher Nate Endicott said, "Guiding students through the technical skills and problem-solving procedure during this project was very rewarding but its true value was in the service process. If a student discovers they can change someone's life for the better by learning a new skill and applying it to solve a problem, they gain the confidence to do it again. Maybe the next problem they solve will help themselves, or another individual, or their community, or the world."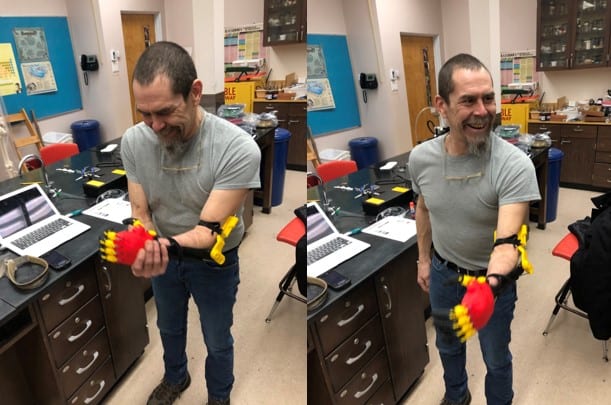 As for Darin, he reflects, "I'm proud of these kids. Community members come up to me and ask where I got the hand and are amazed that the high schools kids right here in town made it. They also see me differently, with a look that says 'That's cool'.  It totally changes how I feel I can engage with society. It feels good all the way around."
"Using technology to solve real problems in small communities like Yakutat is the highest form of educational experience for our students, "said Yakutat Superintendent Patrick Mayer. "These are the kinds of problem-solving skills that Alaskan students will need their entire life and allow them to contribute in big and small ways to their communities."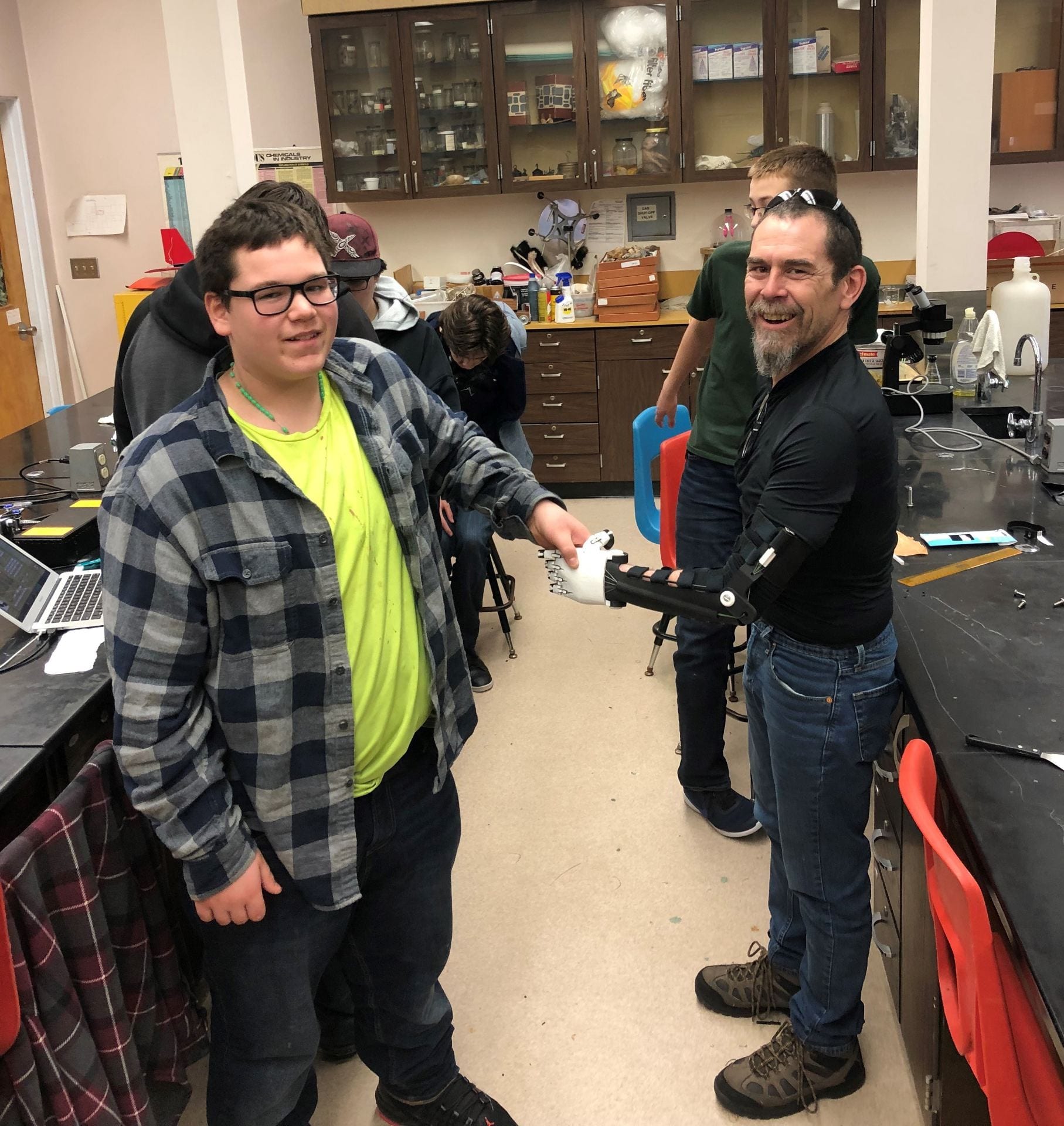 As for the future, the Makespace class is already in the planning stages for new additions to the printed hand design. Darin has been approached with all kinds of ideas. "They've asked how I feel about adding flashlights to the fingers, like 'Iron Man', or creating specialized attachable tools for my hobbies."  And what hobby is that?  Woodworking, of course.