Thirteen Valdez High School students, three teachers, and a number of family members recently returned from the Dublin Choral Festival in Ireland.  The group toured with Music Contact International for a seven-day experience full of music, culture, art, history, and architecture.  During the tour students visited monastic ruins in the Irish hills, toured the Edwardian inspired Dublin Castle built atop medieval ruins and experienced the levity and local flair of a century old pub.
The Valdez High School choir and two flutists performed three scheduled concerts-including one in St. Anne's Church, another in St. Patrick's Cathedral, and once for an Anglican congregation. The group also took advantage of the music-friendly culture and performed in impromptu venues as they toured–in the courtyard of Christchurch Cathedral, twice in Glendalough, a 7th century monastic site, and in the chapel and ballroom of Dublin Castle.  The student repertoire included mostly a cappella works of various eras, the American national anthem, and "Alaska Flag."  For fun, the barbershop quartet tipped their hats to a welcoming Irish audience at an evening performance.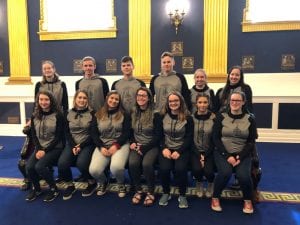 Additional musical experiences included an Irish drumming workshop, an evening in the Merry Ploughboys Pub with traditional Irish music and dancers, and a plethora of street musicians.
The finale of the festival was a mass sing with all the festival participants in St. Patrick's cathedral. A local conductor rehearsed with the combined choir of students and adult singers to prepare "Danny Boy", and two sections of Handel's Messiah with live orchestra.  It was a spectacular performance in a breath-taking venue.
This music-filled adventure was led by Valdez music teachers Ann Norris and Leslie Bauman.
---
Have a story to share from your own school/district? You can either fill out this Google form, or simply send Sam Jordan content directly to work up a post.  We are looking for posts of no more than 500 words, accompanied by 1-2 pictures if available. If you need ideas, check out this doc https://bit.ly/2HDqyGx