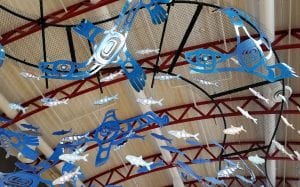 "For anyone to grow up complete, art is imperative" – Paul Harvey
Alaska's schools are beautiful.  When you walk into any school, in any part of the state, you are met by not only the sights and sounds of students learning, but you are greeted by art. Supported by our unique, talented and dedicated Alaskan arts community, schools around the state are filled with paintings, photographs, sculptures, mosaics and objects that reflect the regional stories and landscapes of Alaska.
"The arts aren't just important because they improve maths scores. They're important because they speak to part of children's being which are otherwise untouched." – Sir Ken Robinson
"The paintings make me feel happy and welcome," said a 5th grader from Juneau. "I like that it gives us pride in our school." Including art in school design is not just a pleasant backdrop for education, it's a critical element that supports identity, well being and academic success. "It adds a lot to our community to have such beauty expressed in our schools.  My kids love it and I love it!", offered a parent from Nome.
 "Art helps us see connections and brings a more coherent meaning to our world" – Ernest Boyer, President Carnegie Foundation
Researchers at San Diego State University and College of William and Mary note that "The aesthetic features of a school can foster a strong sense of belonging that, in turn, can generate an enthusiasm for learning. The overall impression of the learning environment is a reflection of the personality of a place."  Alaskan schools have invested in that promise and our students, teachers, parents and communities are all the better for it.
"Logic will take you from A to B. Imagination will take you everywhere." – Albert Einstein
---
Have a story to share from your own school/district? You can either fill out this Google form, or simply send Sam Jordan content directly to work up a post.  We are looking for posts of no more than 500 words, accompanied by 1-2 pictures if available. If you need ideas, check out this doc https://bit.ly/2HDqyGx