Last summer, an empty room sat at the end of the hallway in Dzantik'i Heeni Middle School. Our team sat staring at the empty space, thinking of what we could do with the room. Possibilities were endless – maybe a place for additional offices, or a testing area. "We can always use more storage for books and materials," claimed the Librarian. However, Molly Yerkes, Principal at Dzantik'i Heeni Middle School had a greater vision in mind. Why don't we give the Makerspace a more defined location (not just a table in the library). And thus, a creative space was born.
What is a Makerspace you ask? A Makerspace is a place to invent, to plan, to collaborate and build, to create, to act, and much more. While our Makerspace takes on the idea of a multipurpose room as well, teachers have used the space for a variety of creative endeavors. Those endeavors have included a room for hosting acting workshops, a room for arts and crafts and various projects, a design center, a place to build and make robots (LEGO EV3's), a filming location for stop animation and school projects, and even an after school Taekwondo club.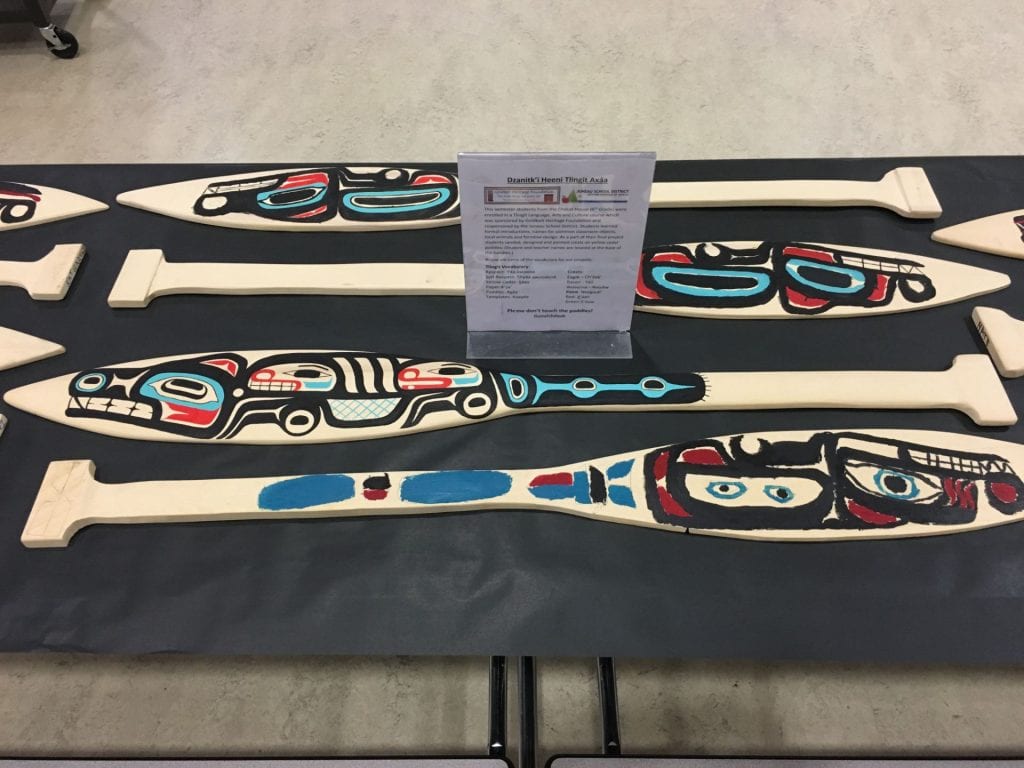 The room was created in such a way that all tables are easy to move. Students (with teacher supervision) have readily accessible tools and safety equipment to build and create. Art supplies are stored throughout the room. A generous grant (and friends to the school) supplied a locking storage cabinet along with hammers, drills, screwdrivers, hand saws, scissors, safety goggles, and much more. The room is equipped to handle projects of all sorts. Lego EV3 modules are kept in one space for collaborative STEM and coding activities. The space was made for teachers to be able to check out the room and keep projects ongoing. Students have the opportunity to learn (with support) various techniques to using a variety of tools.
The most important aspect about this creative space is its continued evolvement. Such a creative space can adapt to the needs of the teachers and the students. Their vision allows for a quickly changing room. Supplies are continually being donated from local businesses such as JoAnn's Fabrics and Home Depot to keep the creations going. Most importantly, the Makerspace is a place where imagination is encouraged.
While we have come a long way with our endeavor, we still have dreams of so much more: 3-D printers, laser cutters, and a t-shirt press are all potentially on the horizon. Next week, students will be able to hop on a flight Simulator to look at a few STEM related flying activities.
With a little fundraising and some very excited students, the space continues to evolve and hopefully we will continue to redefine multipurpose space, creativity, and with ingenuity.
---
Have a story to share from your own school/district? You can either fill out this Google form, or simply send Sam Jordan content directly to work up a post.  We are looking for posts of no more than 500 words, accompanied by 1-2 pictures if available. If you need ideas, check out this doc https://bit.ly/2HDqyGx