The Juneau Community Charter School (JCCS) is a small, community driven, charter school in the heart of Juneau. Recently, 87 of its students, K-8, attended two incredible days of the biennial Charter School Community Winter Camp off the grid, out in the forests north of Juneau. Weather in southeast Alaska is notoriously fickle, but the camp lucked out with 2 days of sunny skies and lots of new snow to play in.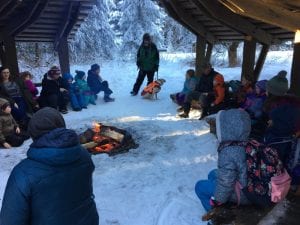 Drawing on the successes and known challenges from past JCCS winter camps, staff provided the leadership, logistical planning and a uniquely designed curriculum appropriate to the conditions and grade levels involved.  As with everything at JCCS, parents also played a critical role in the success of the camp. 30 parents attended either all or part of the camp, supporting students and presenters alike.  Some parents even stayed the night in the winter cabins to help supervise the older students.
Activity sessions were taught by many local agencies, including Discovery Southeast, the Alaska Department of Fish and Game, Wild Apothecary, SEADogs of Alaska. Activities at the camp ranged from cross-country skiing and snowshoeing, to winter plant gathering, to knot tying, to snow science and snow art.
Events like this are a huge investment of time and energy. The sense of community that JCCS builds all year long is the reason why we can come together to create unique learning opportunities like this camp for our students.  Its was a great event and we are already looking forward to Winter Camp 2021!
---
Have a story to share from your own school/district? You can either fill out this Google form, or simply send Sam Jordan content directly to work up a post.  We are looking for posts of no more than 500 words, accompanied by 1-2 pictures if available. If you need ideas, check out this doc https://bit.ly/2HDqyGx